The state senator was not on the ballots, but he emerged as county's top Democrat
By Mike McGann, Editor, The Times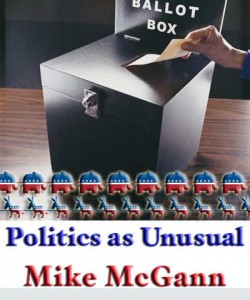 While most primary elections in non-presidential years are kind of ho-hum events, Tuesday's elections turned out to be more revealing than expected, and at minimum give us some hint of what is to come in November.
Not shockingly, turnout was lousy, especially on the Republican side. While much is being made of the fact that Lt. Gov. Jim Cawley actually got more votes statewide than Gov. Tom Corbett, it may not matter by the time November rolls around. Somewhat frustrated with Corbett, and with few other races to be decided (all but two of the polls I visited had no Republican primary battles above county committee), these voters didn't have a strong reason to show up.
I suspect we'll see a different response in the fall, when confronted with the possibility (very real) that Tom Wolf will be the next governor. Both parties will need to crank up their voter turnout machines, which to date, the Republicans have been much better at in non-presidential years.
Still, based on a series of mailings by the state Republicans last week to Democratic "super voters" (those who have voted in four of the last four elections, including primaries), Team Corbett really isn't thrilled to be facing Wolf in November. The three very expensive mailers — a rare extreme strategic misstep by state Republicans — seemed to have had three impacts on Democratic voters:
1. A lot of those on the fence about supporting Wolf, or leaning toward Rob McCord or Allyson Schwartz either voted for Wolf or stayed home.
2.  Undecided voters looked at who the Republicans were attacking and said to themselves: "Wow. If they hate this guy, he must be the best candidate. I'm voting for him."
3.  If signaled a surprising degree of flop-sweat terror to donors and party insiders exactly how worried the GOP establishment is about Corbett taking on Wolf. This was a classic example of "punching down." By attacking him during the primary, the Republicans elevated Wolf to a credible candidate (if he wasn't already).
The mailers were a clear and unforced error, one that could haunt Corbett from now until Election Day.
They did appear to have some unintended impact on what was thought to be a close race in the 74th State House District Democratic primary between Caln Commissioner Joshua Young and Downingtown May Josh Maxwell.
Although Maxwell insiders were pretty bullish on the race, suggesting a margin of more than 20 points was possible in the days before the election (Young insiders said their numbers were much, much closer), the final 24-point margin of victory for Maxwell was a bit of a surprise.
Did McCord and Schwartz voters who were supporting Young decide to stay home? It's at least a possibility. Young had strong backing from Chester County Democratic Committee Chair Michele Vaughn — who also backed McCord strongly. It's not a stretch to guess that many Young supporters in the 74th were also McCord backers, and seeing how the gubernatorial race was going, decided to sit this one out.
The biggest Democratic winner in the county, Tuesday? Not Maxwell, although running up the big margin on Young should signal to donors that the Downingtown Mayor's campaign has a good handle on targeting and turning out its voters.
Still, Maxwell and his team need to be very wary of Republican Harry Lewis Jr.'s deep and loyal network of friends and supporters in and around Coatesville. Although a generic Republican would be expected to lose to a generic Democrat by about 14 points, based on the district's demographics, Lewis is the one Republican who can be expected to pull large numbers of Democratic votes this fall. Clearly, this is the race to watch this fall in Chester County.
So while Maxwell has a strong opportunity to win his race, it will be a tough battle, regardless of Tuesday's outcome.
No, the big winner is State Sen. Andy Dinniman. Dinniman vocally supported Maxwell and Wolf, as the inevitable counterweight to Vaughn's support for Young and McCord, and both of the Senator's favored candidates won in the county by blow out margins. Dinniman's fundraising ability, name ID and ability to attract votes, even across party lines, positions him as the most powerful Democrat in the county right now.
Of course, if you listen to whispers, Dinniman's time in Chester County could be counting down. More than one source has suggested that should Wolf win in November, Dinniman would be on a very short list of candidates to become the next state Secretary of Education. Something to keep an eye on.
Another winner from Tuesday: mainstream Republicans.
The lone Tea Party candidate in the county, Roger Howard, lost by a convincing margin to mainstream Republican Cuyler Walker in the 158th State House District GOP Primary. From touching base around the region, it appeared that the party regulars were out in force for Walker, who cruised to a 23-point win.
The well-liked Walker — currently a township supervisor in East Marlborough — will face a spirited challenge from Democrat Susan Rzucidlo, who sought the office in 2010 and 2012, losing to retiring State Rep. Chris Ross. Tuesday's numbers reveal that Republicans in the new 158th appear primed and ready to get their voters out in a district, that on paper at least, would appear to favor the GOP.
Meanwhile, one issue that could loom over all of these races: the struggling state economy and what appears to be a growing budget gap for the 2014-15 budget, currently up for debate in the legislature.
I had the opportunity to speak with Senate Majority Leader Dominic Pileggi Tuesday, as he was making the rounds of some of his polling places in the 9th Senatorial District, and he didn't paint a very optimistic picture.
He said that the revenue projections now suggest a deficit in the budget as proposed of more than $1.2 billion, as revenue from various state taxes has fallen off in recent months. The path ahead, he said, is tricky at best.
Pileggi said that the legislature would work to come up with the cuts needed to make up for the lost revenue and see if such a budget would be palatable to the legislature. If not, he said, they would need to look at the revenue side and see if there are options.
Either path is problematic for GOP legislators — the entire house is up for election, as is a third of the state Senate. Additional cuts, after a number of years of austerity might not play well at home — especially with moderates and independents. On the flip-side, raising taxes — a dubious prospect with Corbett's long-standing opposition to any tax hike — could kill Republican voter turnout in the fall.
With the worsening pension mess and polling suggesting that education funding is at or near the top of issues for a lot of voters, it's tough to see a winning strategy right now for legislative Republicans and Corbett, but they may need to embrace the least awful option by June 30.
Don't expect Democrats in either house to offer votes to help bail out their colleagues, either. Whatever the GOP decides, Democrats plan to make them own it for the fall campaign.
One small relief for Republican candidates is Corbett's decision not to appeal this week's state Supreme Court ruling tossing out the ban on same-sex marriage, effectively making it legal in the state.
While Corbett may face heat from his more conservative supporters in the short term, his only concern is that it angers them enough to stay home in November. It does make it easier for moderate Republicans and independents to embrace Corbett again, for taking a moderate position on in the issue.
GOP state legislative candidates can, depending on the makeup of their districts, either rail against the decision, or quietly ignore it. The ruling should make it tougher for Democrats in some areas to raise funds, particularly from gay rights groups.