To The Editor: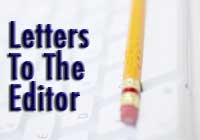 I was shocked and dismayed by the forced retirement of Mr. Mark Ransford as the principal of Chadds Ford Elementary School. He has done an extraordinarily job in his short time there. He brought the first, nationally "Blue Ribbon" commendation to our district.
While there may have been errors made in the administration of this year's PSSA tests at CFES, the district's administration must admit to being the major cause as they have failed to review and re-educate all individuals involved in administrating PSSA and other similar tests in our district.
I have also heard several rumors that improper testing procedures have occurred at all our schools over the last several years. No noticeable actions were taken. Due to numerous and widespread comments on this matter, I feel certain that there must be some truth to this matter that the UCF Administration has failed to share with the public.
I hope the administration makes the necessary corrections to the handling of all tests, at all schools in our district.
Bruce B. Yelton,
Pocopson
Editor's note: Consistent with both our reporting and numerous subsequent conversations, Ransford was not forced to take retirement, but chose on his own to do so. And again, discussing it with multiple sources, including CFE parents, the events as portrayed by the district appear to be an accurate account.