Two local artists with unique contemporary takes on assemblage art
By Lele Galer, Columnist, The Times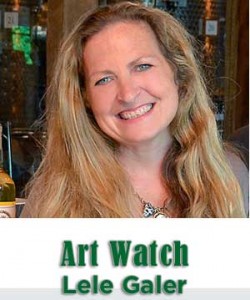 Three dimensional clay and metal artist Jill Beech and assemblage painter Steven Mogck will be exhibiting in a two artist Pop up show this Thursday May 8th at Galer Estate Winery in Kennett Square. While their pairing was accidental, these two local contemporary artists share a joy in the assembling textures surfaces on a flat plane and creating a magical interplay of color, texture and story.
Jill Beech is a practicing veterinarian at the world renown New Bolton Center in Unionville, as well as an accomplished ceramic artist with a studio in East Fallowfield. Recently she has been drawn to working with twisted, flattened and patina colored copper fold forms, which she cuts and reconfigures into interesting compositions. The abstract linear shapes bring to mind the large painterly works of contemporary painter Gerhard Richter, but the fact that they are created from pressed copper sheeting makes the image very tactile – you want to touch it! Jill's hand-built sculptural ceramic forms are also full of tactile qualities, wonderful shapes, spare color and wonderful textures inspired by nature.
Steven Mogck is a local painter who integrates collaged paper textures and pictures with carefully rendered painted images to create a single vision. In his painting "Stalker", Steven combined two strong visuals: a pin-up girl and an older man with a hat. They two images are set on a panel with a variety of textures and vintage collaged commercial slogans and postage stamps. The viewer is drawn to the story behind the image and seeks to make sense of it all by looking more carefully at each chosen word and cut out fragment.
His work is both alluring and rather frightening, and makes me want to see more! Steven Mogck's work has been featured in numerous publications such as Marvel Comics and Time Out NY magazine. Steven also worked as a storyboard artist for movies and television commercials while living in New York City. Recently he has been focusing his attention on fine art and has been featured in nationally juried group shows as well as Philadelphia area art galleries. His paintings have been selected by curators from The Metropolitan Museum of Art, Guggenheim Museum of Art and The Gladstone Gallery in New York City. Steven studied Illustration at Pratt Institute and graduated from West Chester University with a BFA in Studio Arts.
The Pop up show this Thursday featuring the work of Jill Beech and Steven Mogck should be a fascinating feast for the eyes! Proceeds benefit the building fund for The Chester County Art Association, and the show runs from 4-8pm.
Local  stunning painter Diane Cannon has been recognized recently with some major art awards in our area. She was honored with "Best in Show" at the Philadelphia Water Color Society Members Exhibit at Widener University (showing now through May 18), and "Best in Show" at the John Jay Audubon Exhibit at Milgrove. Bravo Diane! Currently she is showing at the Yellow Springs Art Exhibition (now through May 11th), at the DFVA show in the Greenville Shopping Center June 6-7th, and close by at Jenner's Pond's Alison Community Center "Inspired by Nature" shows May 11 through July 5th.
Diane is a long time favorite contributor to local school and non-profit shows, and her work never fails to delight and inspire. Her colors are beautiful and rich and her texture combinations are playful and bold. Diane's work is widely collected in our area, and her kind, friendly personality makes her art work even more engaging. It is wonderful to see this local artist be recognized with "Best in Show"!
If you are looking to do something Saturday with Mom, you might venture out to the lovely town of Phoenixville and go to the "Art of the Feminine" exhibition opening from 1-4pm at the Franklin Commons (400 Franklin Avenue). Twenty five artists were selected to represent different interpretations of "Feminine". From steel sculpture to resin body casts to oil paintings, this is an intriguing show at a new gallery that is sure to turn into an art hot spot.
One of my favorites is local painter David Katz who is exhibiting 5 in his series of photo realist close-ups of diagnosed schizophrenic individuals. He will be exhibiting more of this extraordinary series in the upcoming "Chester County Studio Tour" at his home studio May 17th and 18th. Also included are non-barn works of local favorite Sherry McVickar. Known to us all as the exuberant " barn lady", Sherry puts aside barns for the moment and is exhibiting 5 beautiful portraits of women. There is also a generous selection of work from fabulous wood assemblage painter Kirsten Fischler, steel sculpture from Stan Smokler, and sensual encaustics from Monique Kendikian-Sarkessian. Once you have gone through this fun exhibit at 400 Franklin Avenue, venture into town and grab some coffee and delicious pastry (best scones ever) from the Artisan's Gallery and Café, and of course check out the Diving Cat Studio right next door.
www.franklincommons.net/art-gallery/exhibitions
www.moniquekendikiansarkessian.com
Lele Galer is an artist who has chaired numerous art shows, taught art history and studio art, public art and has chaired, written and taught the Art in Action Art Appreciation series for the UCFD schools for the past 12 years. She worked at the Metropolitan Museum of Art, and wrote for the Asociated Press in Rome.  She has been dedicated to Art History and art education for most of her adult life. Lele and her husband Brad own Galer Estate Winery in Kennett Square and co-Chairs the CCAA's New Building Campaign.