Annual event at Unionville Elementary helps fund education programs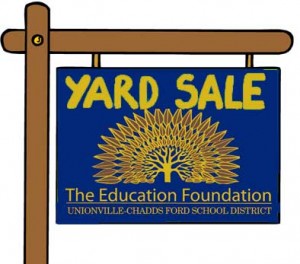 EAST MARLBOROUGH — Ready for a little Spring cleaning? De-clutter your home and help a worthy cause: the Unionville-Chadds Ford Education Foundation's annual Community Yard Sale at Unionville Elementary School by donating items for sale.
The annual Yard Sale benefits the Education Foundation, which in turn uses funds raised to enhance the educational experience at Unionville-Chadds Ford schools by funding programs, technologies and scholarships for local students and teachers.
Donations of the following items are requested: household items, antiques, sports equipment, furniture, good condition toys, and outdoor items.
Although the sale will take place on May 3 from 8:30 a.m. to 12:30, organizers of the event will begin collecting items on April 30, with a drop-off at Unionville Elementary School from 3:30 to 5:30 p.m. A second day for drop offs will be held May 2, 3:30 to 5:30 p.m..
For more information or to make special donation arrangements, email unionvilleyardsale@gmail.com or go to the Education Foundation's website.