To The Editor,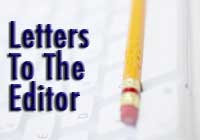 My background is that of an 'Army Brat" who traveled the world — Turkey, France, Okinawa — with relatives in England, Australia, and New Zealand.  My grandfather in England used to call his bookie and enjoy making small bets from home and take me to the race courses in the 1950s. I love horses and always have from riding carriage horses in Turkey to now owning my own farm.
"The rich" had money to build farms in your state and relocate stallions there to bring economic growth to Pennsylvania and save farmland thereby putting less pressure on schools and infrastructure costing the taxpayers. I bring my horses to Pennsylvania to foal because of the promised program which makes the babies more valuable to those who race all year.  And then one hears of politicians — you, Mr. Rogers — who have their eye on the cookie jar to save the schools?
I was a teacher in Jim Thorpe, Pa. in 1970-71 with 34 second graders.  We actually taught with the creativity (God) gave us. So much money is wasted in education.  Yes you need good buildings but the taxpayers have already ponied  up through their property taxes. And you, wish to bestow upon a select constituency (probably in your district) a windfall from the horsemen's fund.  Horse racing in Pennsylvania is providing sustenance to 'the little guy' from the farriers, purveyors of hay, straw, grain, transportation, veterinarians, trainers, barn workers–I could go on:  eateries located near the tracks and on the way…even tolls we in NJ pay to get there.
It takes my breath away the wealth distribution mentality permeating the current climate.  If it ain't broke, don't fix it….use common sense to encourage economic growth and the rewards will be more money from sales tax, income tax, and the like.  Shop around to give taxpayers more bang for the buck.  And consider a 5% pay cut in the statehouse, Congress, or wherever to 'help out'  and share the burden.  After all politicians have the security of a pension and lifelong healthcare of your own choosing.  What does the 'little guy' and their hanging-in-there  "rich" employers have?
Frances C. Purdey,
Colts Neck, N.J.