To the Editor: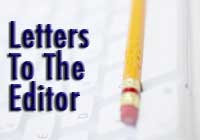 It is a sad reflection on the values of politicians in these times that Roger Howard has chosen to open his campaign for the Republican nomination in the 158th State House District with a negative and deceptive letter to this publication.  I am writing to set the record straight on Mr. Howard's unfounded and deceitful personal attack on his opponent, Cuyler Walker.
In 1961, when Cuyler was a year old, his mother was injured in a riding accident that left her permanently paralyzed and in a wheelchair for the remaining 30 years of her life.  At that time there were virtually no accommodations in the workplace for persons with disabilities and few women operated their own businesses. 
Nevertheless, Cuyler's mother aspired to participate in the economy and she built a meaningful life for herself running a small thoroughbred breeding operation at the Walkers' family farm in Kennett Square.  In doing so, she provided employment opportunities for the men and women who cared for her horses, and also supported the livelihoods of farmers, veterinarians, farriers, and others involved in the local agricultural economy.  While Mr. Howard may choose to belittle the value of such a career, we should admire someone who shows such grit and determination in the face of adversity and makes a contribution to Chester County's leading industry, agriculture.
After his mother's death in 1992, it fell to Cuyler to wind down and liquidate her business.  Other than that, he has had no financial involvement in horse racing and breeding.  In 1997, Gov. Tom Ridge asked Cuyler to serve as Chairman of Pennsylvania's Horse Racing Commission.  This is the state agency tasked with regulating the thoroughbred racing industry and maintaining the highest standards of integrity in the sport.  During the six years he served as Chairman, Cuyler served the people of Pennsylvania honorably.
Cuyler left the Horse Racing Commission in early 2003, more than a year before Gov. Ed Rendell engineered the passage of the Race Horse Development and Gaming Act that legalized slot machines at race tracks in Pennsylvania and created the Race Horse Development Fund (RHDF).  Contrary to Mr. Howard's claims, Cuyler had no role in the formulation or implementation of the Act and has never received even a penny from the RHDF.
The citizens of the 158th District deserve better from their candidates than the misleading innuendo and cheap attacks launched by Mr. Howard.  It's time to restore truth and decency to our political process.
Donald B. Lynn, Jr.
East Bradford