Tiffany inspired color transformations of reclaimed wood
By Lele Galer, Columnist, The Times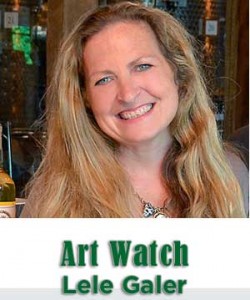 Kirsten Fischler is painter with a very unique style of art.  Kirsten collects recycled wood building materials, cuts them up, paints them and then reconfigures the elements into a singular work of art. Often the pictorial elements are simply rectangular cuts of a piece of plywood- but what a piece of plywood!
Her colorization of the grains and textures in the wood transforms this material into something magical and mesmerizing. In her latest work, as in the Lignum series, Kirsten carefully places one colored slice next to one another – creating rich patterns of color and texture that are inviting and beautiful.
At this Thursday's Pop up Artist show at Galer Estate Winery, Kirsten will also be showing her Chester County inspired landscapes. As with her more abstracted works, Kirsten's landscapes also incorporate collaged wood elements, which then inspire a larger central landscape image, (see Circle of Life, below, right).   Kirsten Fischler was raised in West Chester, but her studio is currently in Philadelphia where she has a large following.
Her earliest influences were John LaFarge and Louis Comfort Tiffany who created the painted glass windows in the Church of the Holy Trinity where Kirsten's father was a rector. Kirsten received her BFA from RISDI and her MFA from Pratt Institute.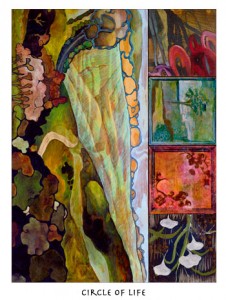 Her work is widely exhibited on the East Coast and she has taught at Moore College of Art and teaches now at Delaware College of Art and Design. We are very fortunate to have Kirsten back in Chester County to exhibit and talk about her work this Thursday at Galer Estate Winery in Kennett Square. 20% of the proceeds from sales benefit the Chester County Art Association's new building fund.
This week is filled with terrific opportunities to enjoy wonderful local art. Chester County Art Association's big Art Invitational fundraiser is this Friday at CCAA in West Chester from 6:30-10:30pm.  This event is called "Party in the Park" in tribute to CCAA's delightful Christo inspired collaborative art piece that was displayed at this year's Philadelphia Flower Show. There are still tickets available and it is sure to be a fantastic evening; full of music, food, drink, prizes, awards and of course, art! Come and vote on your favorite artist and they will win a solo gallery show!
This Thursday from 4-7pm is the opening reception for the new Diane Cirafesi show entitled "Art Ritual." Diane's dreamy, provocative work will be exhibited at the West Chester University Knauer Gallery at the Swope Music Building. Her images, such as "Ophelia", are brilliantly rendered and combine an alluring quality of  tragedy and beauty. I am looking forward to going to her opening and hearing Diane talk about her work.
The big weekend art event is of course "Art on the Square" in Kennett Square this Saturday April 26th from 10am-5pm. Art on the Square is a juried fine art and craft festival that features a  wide variety of professional artists specializing in two-dimensional and three-dimensional disciplines: painting, illustration, sculpture, glass, wood, photography, jewelry, pottery, fibers, mixed media, and furniture making.
In its third year, this Art on the Square promises to be a lot fun for every age art lover. Parts of downtown Kennett Square will be closed to vehicle traffic, to allow viewers to stroll through dozens of art tents, and food, beer and local wine will also be sold all day long. Art on the Square began in 2012 and coincides with the favored Annual Plant Sale presented by the Kennett Square Beautification Committee, now in its 49th year. The festival is presented by Kennett Area Restaurants and Merchants Association (KARMA) with support from the Kennett Area Arts Coalition (KAAC).
If you are an artist looking for a new venue to exhibit your work, check out the Delaware Center for the Contemporary Arts website which is inviting artists to enter their largest juried show. You must apply by this Sunday, April 26th.
www.artonthesquare.wordpress.com
www.wcupa.edu/cvpa/art/Exhibitions.asp
Lele Galer is an artist who has chaired numerous art shows, taught art history and studio art, public art and has chaired, written and taught the Art in Action Art Appreciation series for the UCFD schools for the past 12 years. She worked at the Metropolitan Museum of Art, and wrote for the Asociated Press in Rome.  She has been dedicated to Art History and art education for most of her adult life. Lele and her husband Brad own Galer Estate Winery in Kennett Square and co-Chairs the CCAA's New Building Campaign.