Local jewelry artist turns found materials into unearthed treasures
By Lele Galer, Columnist, The Times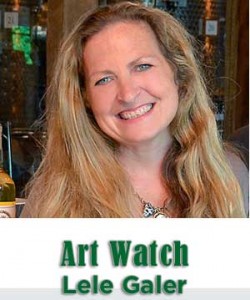 Local jewelry artist Susan Heaver is drawn to the natural beauty in found materials that she cuts, carves and twists into unique works of wearable art.  Not many people can look at a junked piece of copper gutter material and envision bracelets cuffs; but Susan Heaver has a vision, and is inspired by cast away found objects and turns them into things of beauty.
Susan Heaver is a self-taught jewelry artist from Malvern.  The materials she uses to create her jewelry include copper, silver, bronze, semi-precious stones, natural materials, fibers and paper.  Most of her inspiration comes from colors, shapes and textures found in nature and ancient artifacts.  Many of the pieces she produces have a patina that look like unearthed treasures.  She has been taking ceramics classes and includes hand-made stoneware beads in her work.
Her work can be seen at several boutiques and artisan centers in Malvern, Paoli, Wayne and Newtown Square and she will be exhibiting her work at Galer Estate Winery's Pop up Artist show this Thursday April 17th from 4-8pm. This fun show will also feature the works of some of her pottery artist friends, including Bob Deane, Penny Emery and Cissy Padghem.   Proceeds for the Galer Estate Thursday Pop up shows go to support the CCAA new building fund.
There are a lot of great art happenings at the Oxford Art Alliance these days. Through April 25th, the gallery highlights the works of two regional artists, Giovanni Casadei and Richard Remenick.
Giovanni Casadei was raised in Rome and he studied art at the Free School for Drawing and Painting sponsored by the Academy of Fine Art of Rome. Coming to the US at age 27 he spent four years earning a certificate at the Pennsylvania Academy of Fine Arts. Giovanni has had many one man shows including those in Atlanta, Philadelphia and San Francisco, and has won many awards for his paintings which feature the most sensitive depictions of light.  He currently teaches painting at the Fleischer Art Memorial and the Wayne Art Center.
Richard Remenick was first influenced by his well-known father and studied with his father's student Giovanni Casadei as well Christine Lafuente. Richard's most recent show has been at the Delaware Center for Contemporary Art.
Oxford Art Alliance also have some terrific children and adults art classes, like the 3D children's Painting class on April 26th, and they have a monthly "Movies to Talk About Series". On April 26th the featured movie is "Scatter My Ashes at Bergdorf's" which will be shown at 7pm in the Gallery.
This Wednesday April 16th the Art Partners Studio in the majestic  Graystone Mansion will host the "Rites of Spring" exhibit  from 5-7:30 in Coatesville.  There is free admission to this lively evening of music, refreshments and teacher and student shows – a real celebration of art!  For more information about the show or for directions, go to www.artpartnerstudio.org.
If you are an artist or artisan interested in showing your work there are a few terrific new venues that you can still sign up for. The popular Kennett Square Cinco de Mayo Festival on May 4 has tent spaces available for artists in the Art Corner. Call or email Susan Gomez-Rubio for an application at 610-357-6306 or gomezrubio@comcast.net.
Registration for "Paint the Town" is due by April 29; this is a fun Plein Air event and art show hosted by The Chester County Art Association where artists take up different spots around West Chester from April 29 through May 2nd and then have a celebration sale on that First Friday Gallery Walk at the Gawthorp Building in West Chester.
Remember to get your tickets now to "Party in the Park" at the Chester County Art Association which will be held on Friday April 25 from 6:30-10:30. This is the big annual fundraiser for CCAA and there will be plenty of art, music, food and activities and prizes. The art show aspect of the evening will feature artworks by some of the very best artists in Chester County, and the viewers will vote on their favorite artist, who will then be awarded a solo show at the new gallery at Penn State Great Valley.
Lele Galer is an artist who has chaired numerous art shows, taught art history and studio art, public art and has chaired, written and taught the Art in Action Art Appreciation series for the UCFSD schools for the past 12 years. She worked at the Metropolitan Museum of Art, and wrote for the Asociated Press in Rome.  She has been dedicated to Art History and art education for most of her adult life. Lele and her husband Brad own Galer Estate Winery in Kennett Square and co-Chairs the CCAA's New Building Campaign.