To The Editor: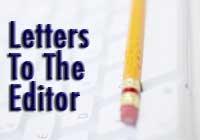 I was astonished with the lack of knowledge of some Board members on what is happening in the district as demonstrated in their criticism of my letter dated Jan. 19, 2014. As always I did my homework and the letter of the 19th is based on fact I never consider rumors.
There are at least two students illegally attending our schools from outside our district. Rumors abound that there are several more. Dr. (John) Sanville is very aware of the two students as he sent at least two letters informing the parents of these students that they could not attend UCF schools from outside the district.
In another follow up letter Dr. Sanville agreed to a deal with the parents by which their children could attend our schools. I question if this is even legal. I also note that the agreements conditions are not being met by the family. Apparently, Dr. Sanville has done no follow up to confirm the conditions are being met.
These students should be immediately expelled.
The data cited on the number of resignations was taken directly from the board's agendas. I would also note that there have also been a higher number of retirements this year. I do not know how many of these were early retirements and thus did not include them in my previous letter. The UCF District has lost an abnormally high number of employees in the first half of this school year. This cannot be good for the district.
The decline in academic performance was front-page news in The Chester County Press. The paper provided details that supported their conclusions. The board has not challenged this press coverage. Apparently, my conclusions are justified and correct.
These three problems help demonstrate how poorly Dr. Sanville has performed as the UCF Superintendant. He should not be offered a new contract.
The board should immediately start a search for a new Superintendant to start in the 2014-2015 school year.
Java John must go now.
Bruce B. Yelton
Pocopson Township
Mr. Yelton is a graduate of Unionville High School and a former Pocopson Township Supervisor. The statements published above are solely the opinions of Mr. Yelton and have not been in any way verified or vetted by this publication or its editors (which is our normal policy on letters to the editor). We note this again, because of recent controversy about our publishing previous letters. We are committed to providing a full spectrum of community opinion and discussion and invite you to comment — or write your own letter to the editor in response. We do ask that you be civil and avoid personal attacks.