Is getting along to get ahead back in fashion?
By Mike McGann, Editor, The Times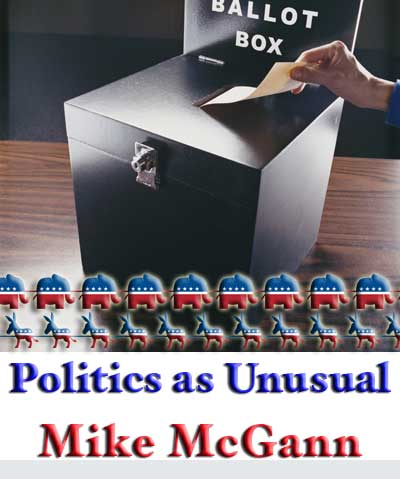 Let's face it, bipartisanism is the new black.
If you listened to a lot of political types in Chester County this past week, candidates and elected officials across the political spectrum were working to show their ability to make nice with the other side.
But roiling below the surface are a handful of intra-party battles and what could be some of the most interesting congressional races in the state (one of which, the 6th, will be among the most-watched in the nation).
And thus kicks off this new political column — which for now will run every two weeks (more frequently once we get to the fall) and look a bit behind the scenes at politics in Chester County.
Before we jump into the bipartisan love-fest, let's look quickly at a couple of intra-party races where there is the potential for things to get a little heated in the weeks to come.
At this point, there appear to be three primary fights for State House seats in the county: two open seats, the 158th and 74th, and one seat with a suddenly imperiled incumbent: the 167th.
Duane Milne, a Willistown Republican who has held the seat for four terms, finds himself being challenged by Ted Leisenring, also of Willistown. Leisenring, a former Great Valley School Board member, is a sales and marketing executive. And while Milne getting a challenge isn't entirely stunning — moderates in the party have been under fire from some of the more strident sectors of the party, the fact that a committee-straw poll suggests that Leisenring won a 30-20 advantage is a bit surprising. And Leisenring appears to also be of a more moderate stripe than most of the challengers we've been seeing around the county, having long been an advocate for open space.
Obviously, a lot can happen between now and the county GOP convention on Feb. 19 — when the endorsement vote will be taken — but this is a bit of a stunner.
To put it in perspective, in the same straw vote, for the 158th, East Marlborough's Cuyler Walker, seen by many as the likely GOP nominee, got 21 votes to seven for Roger Howard, also of East Marlborough.
On the Democratic side, beyond fund-raising, maybe the only notable news of the last couple of weeks was state Sen. Andy Dinniman's public endorsement of Downingtown Mayor Josh Maxwell over Caln Township Commissioner Joshua Young for the 74th District Democratic nomination, this past Thursday night.
While politician endorsements are of questionable value in terms of voters, they do have value when it comes to campaign donations and – in some cases — swaying the opinions of county committee members for what shapes up to be an important vote on Feb. 18. And Maxwell has managed to snag both Dinniman and Chester County Commissioner Kathi Cozzone, meaning he has the backing of the top two elected Democratic officials in the county.
Young, though, has the backing of party chair Michele Vaughn.
I'm told the vote for the party endorsement remains close and could be carried by a couple of late changes in opinion, so it will be something to watch. Ultimately, though, the voters will make the decision here.
As we're just a couple of weeks short of Valentine's Day (and woe be to those who forget that key day), maybe the intra-party lovefest we've seen from congressional candidates tells us one thing: Even they get that the extreme wrangling in Washington D.C. and government shutdown was about as popular as skunk in a wedding party limo.
Just as I was getting back into the office from Tom Houghton's frosty, snowy outdoor campaign kickoff out in Lancaster County, during which he strongly touted his record of working across the aisle, there was the message that his opponent, Republican U.S. Rep. Joe Pitts would be sitting with New Jersey Democrat Frank Pallone — a noted progressive — during President Obama's State of The Union Address. I'd have been interested to hear what Pitts — a noted not progressive, shall we say – and Pallone found to talk about during the speech.
I suspect we'll continue to see this trend of conciliation and working toward the middle — until at least after the primaries, when the real shots start coming. Once it gets a little more personal, it can be hard to resist the temptation to haul out the verbal flamethrower.
I was personally glad to hear of Kathi Cozzone's decision not to run for the 6th District Congressional seat. Not because I don't think she'd be a good candidate or a good Congressperson, in fact, I'm quite sure she'd excel at both.
And while some might see her saying that she wanted to be able to spend time with her son, Victor Jr., and husband, Victor, as an excuse, knowing her, it's the exact truth. Having known the Cozzones almost a decade, the decision to skip what would have been a grueling and tough race — and essentially miss a year of life with her family — seems like the right one for her and her family.
I think, too, with fellow commissioner Ryan Costello running — and the fact that Costello, Cozzone and Terence Farrell have done the best job in memory of really running the county on more of a bipartisan basis — that while pitting the two of them against each other would have been good for page views, I'm not sure it would have been good for Chester County as a whole.
There will be Democrats chasing this seat — the Democratic Congressional Campaign Committee seems to be embracing Malvern's Mike Parrish, but his recent conversion from the Republican ranks appears to trouble many dyed-in-the-wool Democrats — and money will come in from all over the country, so the eventual Democratic nominee should have a war chest to take on Costello. But the open question is whether it will be enough to fund the crazy-expensive TV ads needed to prevail.