Inspired by the traditions of the Brandywine Valley
By Lele Galer, Columnist, The Times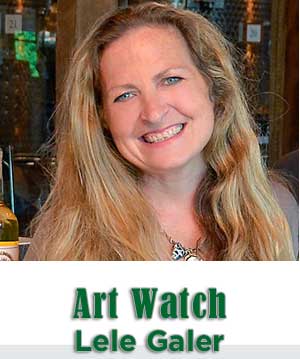 Local painter and pastel artist Annette Alessi is the subject of this week's Local Art Watch.  After graduating from the Art Institute of Philadelphia with a degree in illustration, Annette worked in fashion illustration for many years.  Most of her landscape work is painted plein air (outdoors) and she does portraits as well as scenes from nature.  A very active artist and art teacher, Annette is a member of the Pastel Society of America, Portrait Society of America and many other art organizations.
She studied with Karl Kuerner, who introduced her to oil painting, and teaches art to children and adults at The Chester County Art Association and the Darlington Arts Center. Her home studio in Garnet Valley is open by appointment and also for private art instruction. Annette's work is represented in many of our local well-known galleries shows including Strodes Mill, Hardcastle Gallery and GV Gallery One in Chadds Ford. This week she will be exhibiting at the Thursday Pop Up Artist show at Galer Estate Winery, where proceeds benefit The Chester County Art Association's New Building Fund.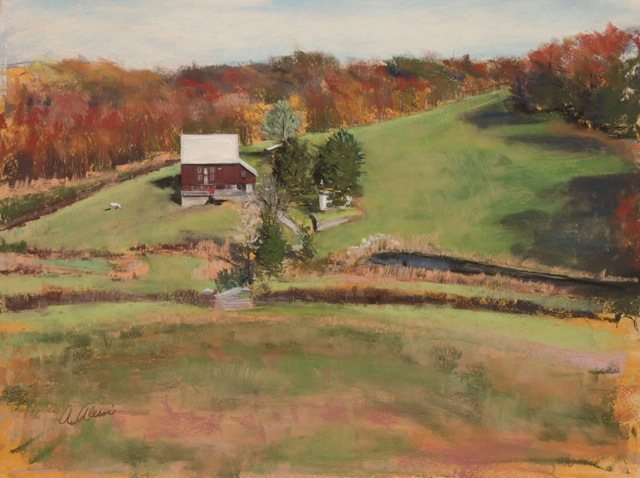 For the past twenty years Annette Alessi's primary media was pastels until she took an art-life-changing class with Karl Kuerner, famous friend, neighbor and art student of Andrew Wyeth. She wrote a tribute to Andrew Wyeth on her web page and credits both artists for being major inspirations to her artwork and teaching. One of the great traditions of Brandywine Valley artists is a feeling of responsibility and dedication to teach others and re-instill the appreciation for the beauty and history of our local area. From Howard Pyle, to NC Wyeth, Andrew Wyeth to Karl Kuerner and many others, this fascinating tradition of mentoring creativity and passion is continued by our featured artist.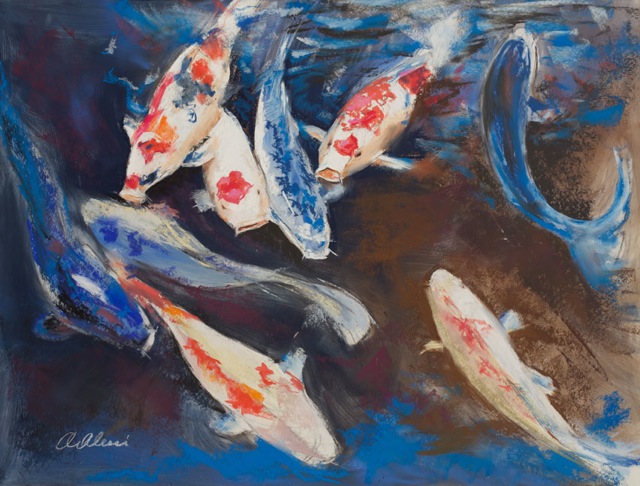 "When I spend time painting, I have a great appreciation for capturing a moment in time or capturing the expression of an individual. " She uses pastel which is her favorite medium "as well as oils, depending on my mood." In the "Hawaiian Koi", you can see the artist's confident use of pastels, wonderful color choices and delight in the composition of intertwining forms. The colorful writhing fish lift out of the water, where their bright white and orange forms and set against deep browns and purples of the pond.  Her choice of cerulean blue at the base really make the drawing pop, and keeps our eye darting to all the interesting surface motion. You can see why this artwork won a recent art award!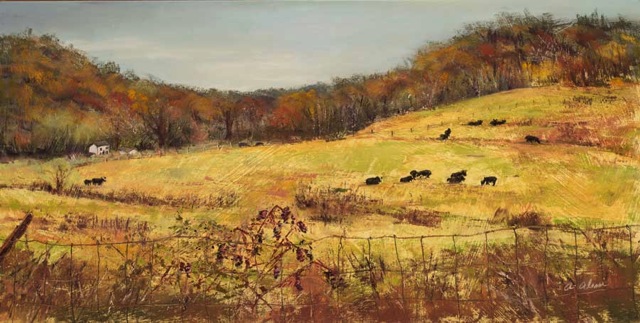 Her landscape paintings are arguably her strongest works. She writes that "there is a story and a mood behind each piece". In her painting of the "Kuerner Farm" a place that she must have spent many happy hours, she has a wonderful mixture of detail and softness and a perfect sense of place. Andrew Wyeth wrote about feeling of  "the bone structures of the landscape. Something waits beneath it; the whole story doesn't show." It is a real talent to be able to capture the character of a specific environment, and there is nowhere else that scene could be but Chester County Pennsylvania.  Likewise, in her plein air painting of the Granogue Estates, she uses a terrific autumnal palette, deft brushwork, and clever use of horizontal planes to illustrate this lovely local pastoral scene.
Annette Alessi's work can be seen in many local galleries and on her website www.alessicreations.com. Please come meet the artist and see her newest works at Galer Estate Winery in Kennett Square this Thursday from 5-9pm.  Writer Catherine Quillman will also be there with copies of her book "100 Artists of the Brandywine Valley".  A portion of the proceeds from art sales benefit the Chester County Art Association's new building fund.
Art Watch is a series of articles that highight one local artist every week. Lele Galer is an artist who has chaired numerous art shows, taught art history and studio art, public art and has chaired, written and taught the Art in Action Art Appreciation series for the UCFD schools for the past 12 years. She worked at the Metropolitan Museum of Art, and wrote for the Asociated Press in Rome.  She has been dedicated to Art History and art education for most of her adult life. Lele and her husband Brad own Galer Estate Winery in Kennett Square and she is President of the Education Foundation and co-Chairs the CCAA's New Building Campaign.