To The Editor,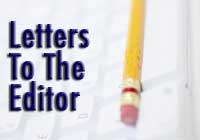 I was reviewing the campaign contributions of the Republican Controller candidate, Norman MacQueen. Mr. MacQueen is also an elected Supervisor in Willistown Township.
I was reviewing the contributions because the Controller's position is a very important position. The Controller is the "watchdog" for county government and the office must be an example of high integrity.
What caught my interest, after I was contacted by a fellow Democrat, was that John Payne, who is employed by Remington & Vernick Engineers as an engineer, contributed $250.00 to Mr. MacQueen's Controller's campaign on June 13, 2013.
Looking further on the campaign contributions, I then noticed on October 10, 2013, the Vice President of Remington & Vernick Engineers contributed $1,000.00 to Norman MacQueen's campaign.
Between those two contributions, on September 23, 2013, Willistown Township awarded Remington & Vernick a contract for $40,000.00 for construction management for a remodeling of the Willistown Police Station. It appears this contract was a non-bid contract because it was for professional services. It does not appear to have been done through a sealed bidding process.
I also noted Mr. MacQueen was not present at the September 23, 2013 meeting and, therefore, did not vote.
As far as I can see, there would be no connection of Remington & Vernick to the Controller's office, but certainly that business has an interest in Willistown Township. This clearly raises some concerns.
The concerns were somewhat heightened since I knew in the past from looking at campaign records, that this firm had been a major contributor to Sen. Vincent Fumo's various campaigns.
Certainly, I think this is a fair discussion in a political year.
Finally, whether this is "pay to play" or not, I believe that the Chester County voters need an explanation from someone who is seeking the most important office of fiscal integrity, the Controllers office of Chester County.
Samuel C. Stretton,
West Chester