Calls for district to improve STEM curriculum
To The Editor: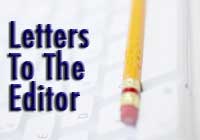 I was a candidate earlier this year to fill the Region C School Board Director position vacated by Frank Murphy. During the appointment process, which lasted multiple votes over a month, I was honored to receive the votes of Jeff Hellrung, Keith Knauss, Jeff Leiser, and Vic DuPuis during the first three ballots on June 18. Although I failed to earn the support of Gregg Lindner, Kathy Do, Holly Manzone and Eileen Bushelow, I appreciate the conversations with them. I am not a candidate for the November 5, 2013 process.
The purpose of this letter is not to discuss the partisan politics of the school board. I want to discuss something much more vital to not only our children, educators and taxpayers but also to the Unionville-Chadds Ford School District, State and this great country of ours, The United States of America! I want to discuss the importance of continually improving the STEM (Science, Technology, Engineering and Mathematics) education to include real life practical experiences for our students.
Education is not only a non-depreciating asset but a fundamental right of every child. We must provide a solid education to every child so they can perform to the best of their ability for rest of their lives. I am proud to say that it is evident that we have one of the best school districts in Pennsylvania.
With this being said, when things are fine, status quo appears to be the best option. When things are alright, we have a tendency to lose the incentive to improve. We tend to be satisfied. However, we must recognize that there are people out there who are not as satisfied as we are and they are working hard to move up, better themselves and yes, be competitive. That is why status quo is the equivalent of going into a decline. If we are satisfied with status quo, we remain where we are but others around us are getting better and sooner or later, we will be overtaken.
We need to make sure that we not outdone by other school districts in Pennsylvania so we must continue to improve. In fact, we must strive to be the best in the country and the world. If we are satisfied with the status quo, we will never get to the top. If we let the partisan politics dictate our course of action, we will never get there. On the contrary, we will lose, albeit slowly, but we will lose.
A child who entered kindergarten this year is expected to graduate from college in the year 2030. While we may not be able to predict exactly how the world will be in 17 years, we must educate our children with a view into the future. We already know that a STEM education is integral to the success of our children no matter which field of work they go into when they grow up.
If we think simply teaching STEM in the classroom is good enough, we are sorely mistaken. There is no substitute for real life practical experience. Therefore, we must partner with the private sector and find our high school students internships and other work experiences with businesses. Students should be able to get credit towards graduation for the time they spend working with a business, within certain boundary conditions. This is a win-win approach! The businesses not only get opportunities to identity potential future employees but would embrace the good publicity of helping the community. We, the parents and the school district leadership, including the board members must take the initiative. The opportunities will not walk to us, we must seek the opportunities!
We must stop the zero-sum game. Too often, the partisan politicians try to put educators and taxpayers against each other and the children lose. The educators are also the taxpayers so let's treat them with the respect they deserve and earn every single day. Also, let's not make villains out of our taxpayers. Remember our taxpayers are our investors and they have every right to seek efficiency and effectiveness in our schools.
The school board must be a strategic planner and have the right balance of strategic and tactical activities. We all must focus on execution. The board can do a much better job of being visionaries. During my recent campaign for the appointment to the board, I was told by one board member and I quote: "you cannot make any difference as a board member. We benchmarked our curriculum against the STEM Academy and we found that we are good." I do not know whether that individual was encouraging me to withdraw my application or believed in what they said.
Either way, it was pathetic for a school board director to say that. On the other hand, I strongly believe Jeff Leiser is an example of an outstanding school board director. His primary motive to serve on the board was to make the school district a better place for students, educators and taxpayers. Serving political parties or his own political aspirations has never been on his radar.
Not all issues we deal with in education are about money. Most issues are about the opportunities or lack thereof for our children, educators, and the support staff. We should focus on improving the value of every dollar we spend. We must do so free of partisan ideologies. No single political party or group owns all the best ideas. We will do much better if we can take the partisan politics out of the school board. More importantly, the future of our children will be in a much better place than it is today. Let's aim for growth and betterment and not just for the status quo.
Dell Joshi
Chadds Ford