If approved by PennDOT, work could be done by 2014
By Kelli Siehl, Staff Writer,  The Times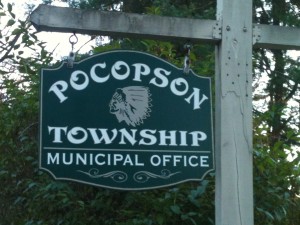 POCOPSON – Officials discussed a mixed bag of topics at the Pocopson Township Supervisor's meeting on Aug. 12.
Supervisors' Chairman Steve Conary said plans for the roundabout linking Route 52, Wawaset, and Lenape-Unionville Roads are completed and awaiting the Pennsylvania Department of Transportation's (PennDOT) final approval. Conary said, if approved, construction could begin and "we may have a roundabout by 2014."
Township residents told officials that Pennsylvania State Police are questioning homeowners on Bragg Hill Road with regard to several acts of vandalism surrounding gates and signs closing a portion of the road to through traffic. Supervisors have reported several incidents since the gates were put in place where vandals have cut chains and locks and then used vehicles to  ram the gates and mutilate and shoot at the signs.
The 40th Marshalton Triathlon will take place Oct. 6 with portions of the popular, community event being held in parts of Pocopson Township. Participants bike, canoe and walk a 10-mile course that begins and ends in historic Marshalton.  Pocopson officials agreed to give race monitors limited motor access to the trail at Bragg Hill Road, where part of the walking portion of the course will run.  For more information, go to http://www.marshaltontriathlon.net/.
Township public works crews will replace both soccer goals at Pocopson Park at a cost of $2,400.