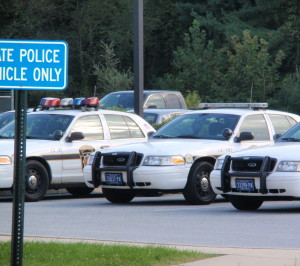 State police from the Embreeville barracks cited a Kennett Square woman on Thursday for failing to confine her dog. Police said a dog owned by Brooke Holloway, 24, got loose and bit several geese and ducks owned by a West Chester man in the area of the 200 block of Brandywine Drive in Newlin Township at 6:12 p.m.
Police from the Avondale barracks said a trooper stopped a Chadds Ford woman on U.S. 1 at Rt. 52 on Sunday at 1:30 a.m. for traffic and equipment violations. After an investigation, Alexandra Stoddard, 28, was arrested for driving under the influence, police said.
Gary A. Fairchild, 60, of Wallingford, was cited for speeding after he rear-ended a 2002 Acura TL, which was stopped at the traffic light on southbound Rt. 1 at School House Road in East Marlborough Township, Avondale state police said, adding that Fairchild sustained minor injury.
A 16-year-old Kennett Square driver, whom police did not identify because of her age, was raveling south on South Union Street in Kennett Township when she turned her 2005 Nissan Pathfinder left onto Hillendale Road into the path of a 2010 Ford Fusion traveling north on Kaolin Road, state police said. One of the teen's two passengers sustained minor injury, police said, adding that the girl was cited for the improper turn.
Police said Gail E. Ferver, 41, of Cochranville, was cited for harassment after sending unwanted text messages from July 7 at 8 a.m.  to July 17 at 12:37 p.m. to two residents of the 300 block of Ground Hog College Road in Newlin Township.