Must select new board member within 30 days, or courts will decide
By Mike McGann, Editor, The Times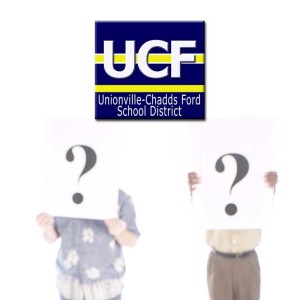 EAST MARLBOROUGH — Three ballots later, the Unionville-Chadds Ford Board of Education finds itself no closer to appointing a replacement for board member Frank Murphy, whose resignation took effect at noon, Monday.
The board was expected to appoint Murphy's replacement at its monthly meeting Monday night at Unionville High School, but no candidate could get the required five votes.
The board will get one more opportunity — at its next meeting July 15 — to make an appointment before the matter gets put in the hands of the Chester County Court of Common Pleas.
Although there were six applicants for the opening from Region C (Pennsbury and Chadds Ford) only three candidates, Dell Joshi, Carol Biederman and Leticia Flores DeWilde. And only Biederman (four votes) and Joshi (three votes) received votes in the second and third ballots, essentially leaving the board deadlocked. But, officials noted, all six candidates remain in play for the July vote.
By state statute, board has 30 days to fill the vacancy, or a judge from the Court of Common Pleas will do so.
"This is a bit of uncharted water for us," Superintendent of Schools John Sanville said.
The inability to appoint a candidate from the six (Biederman, Joshi, Flores-DeWilde, Lorraine Ramunno, John Murphy and Skip Barthold), shortens the term of an appointment already scheduled to end Dec. 2, following a November election to fill the seat through Dec., 2015.
Biederman got support from Kathleen Do, Gregg Lindner, Holly Manzone (who supported Flores DeWilde on the first ballot) and board president Eileen Bushelow. Joshi was supported by Jeff Hellrung, Keith Knauss and Victor Dupuis. Board member Jeff Leiser did not attend the meeting.
After the three agreed upon ballots were taken with no conclusive outcome, Sanville apologized to the six applicants, many of whom had family with them in anticipation of their immediately joining the board.
Multiple board members reminded the candidates that an election in a few months will ultimately decide who sits on the board and that even if they are not chosen, they should consider running, and certainly stay involved in the school district.
"We have six very fine candidates," Manzone said. "It's a blessing."
In addition to the now-vacant Region C seat, two seats are up in Region A and Region B as well. In Region A (East Marlborough/West Marlborough), Knauss and Hellrung are unopposed, as are Steven Simonson and  Michael Rock in Region B (Pocopson/Newlin/Birmingham).