Your investment plans can reflect your personal values
By Bronwyn Martin, Columnist, The Times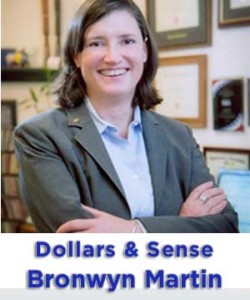 As the global climate change discussions heat up in Washington, many investors are paying attention to the impact of their investments on the environment and the well being of people around the world. As this trend has increased, so has the demand for investment choices that demonstrate not only financial soundness, but also a concern for quality of life. This investment philosophy, known as socially responsible investing (SRI), has a special appeal to many individuals concerned with the future of our planet.
What constitutes socially responsible investing?
Investors who adopt an SRI strategy believe their decisions should be governed not only by economics, but also by social issues. This often means refraining from investing in companies or industries that produce products or offer services the investor disapproves of, regardless of the company's or industry's potential for profit or value. Investors who maintain an SRI strategy may choose to avoid investing in companies related to alcohol, tobacco, gambling and weapons. It can also mean investing in companies that promote workplace diversity, actively participate in community volunteer programs or work to improve the environment.
Benefits, drawbacks and strategies of SRI
As with all types of investing, there are tradeoffs that come with socially responsible investing. Those who practice SRI can feel good that their investment choices reflect their values. However, socially responsible investors must balance this benefit with more limited choices with regard to portfolio diversification.
Some strategies that those interested in SRI may employ include divesting from companies that don't align with their personal morals or beliefs, and participating in shareholder activism or engagement. They may also include:
Investing in SRI mutual funds. These funds include companies that many socially responsible investors support. They use SRI strategies as part of their fund objectives and portfolio choices.
Micro-financing. Money invested in micro-financing service companies is used to support small businesses that otherwise would not be eligible for traditional financing.
Community-investing. Community-investing directs capital from investors and lenders to communities that are underserved by traditional financial services institutions. It makes it possible for local organizations to provide financial services to low-income individuals and to supply capital for small businesses and vital community services, such as affordable housing, child care, and healthcare.
Building a socially responsible portfolio
To invest according to your ethical standards, research your investment decisions carefully. SocialFunds.com is a website of SRI World Group, Inc.; a news, research, and consulting firm that advises clients regarding sustainability investment issues and corporate responsibility practices. The Forum for Sustainable and Responsible Investment (socialinvest.org) is a nonprofit organization that promotes socially and environmentally responsible investing. Their website also provides extensive information that may help you get started.
If you think a SRI strategy fits your financial objectives, consider working with a financial advisor to get professional advice about possible investment opportunities. A financial advisor can help you find appropriate SRIs and brainstorm options for future investments that satisfy both your financial goals and your desire to invest ethically and responsibly.
Bronwyn L. Martin, ChFC®, MBA, CFS®, CRPC®, CMFC® is a Financial Advisor and a Chartered Financial Consultant® with Ameriprise Financial Services, Inc., an Ameriprise Platinum Financial Services® Practice,  in Kennett Square, PA.  She specializes in fee-based financial planning and asset management strategies and has been in practice for 13 years. To contact her, visit: www.ameripriseadvisors.com/bronwyn.x.martin/     
Ameriprise Financial and its representatives do not provide tax or legal advice. Consult your tax advisor or attorney regarding specific tax issues
SRI World Group Inc. and The Forum for Sustainable and Responsible Investment are not affiliated with Ameriprise Financial, Inc.
The included websites are provided for informational purposes only and are not an indication of endorsement of the content therein or affiliation with respect to the referenced sites.
Brokerage, investment and financial advisory services are made available through Ameriprise Financial Services, Inc. Member FINRA and SIPC.
© 2013 Ameriprise Financial, Inc. All rights reserved.