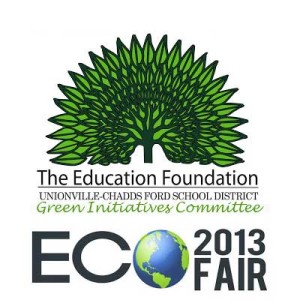 EAST MARLBOROUGH — To help spread awareness about green living and educate families, children, and the community about sustaining the environment, the first annual Eco Fair is scheduled for Saturday, May 18, from 9 a.m.-2 p.m.
Sponsored by The Unionville-Chadds Ford Education Foundation's Green Initiatives Committee and hosted by Unionville Elementary School, this free rain or shine event will include:
Local eco-friendly vendors on-site, such as The Bark Bakery, 3 Sisters Soaps and Scents, Nomadic Pies, Logical Living, HoneyBadger Woodworks, Zen Candles, Milk Truck Vintage among others
Educational information from the Chester County Solid Waste Authority, Waste Oil Recyclers, Organic Mechanics, and the Brandywine Valley Association
Family fun – face painting, the Green Ranger (who sings and dances in a costume made up of recyclable materials), and Brandywine Yoga demonstrations for attendees of all ages
A silent auction of a beautiful painting by Kennett Square artist Kristina Closs.
"The Education Foundation is very excited to help sponsor the kickoff event for the new Green Initiatives Committee for all the district's schools and we are looking forward to a terrific new annual event in our community! Go green!," said Lele Galer, Unionville Chadds Ford Education Foundation President.
Attendees are encouraged to bring recyclable materials like used paint cans (cans must be at least ¾ full), small pieces of furniture and cabinetry for Habitat for Humanity, cans and plastic water bottles for Trash Talkin' Ladies, and used cells phones (functional or non-functional) for Cell Phones for Soldiers.
"The exciting thing about this event is that it raises awareness with our students and generates their interest in promoting eco-friendly habits. For these elementary-aged kids, recycling is simply the way to do things and they love to take active roles to promote it," said Clifton Beaver, Unionville Elementary School Prinicipal. "This Eco Fair is really our kick-off to something that we hope will grow every year. It's a great way for the community to come together to learn and do more to be eco-friendly. There's also only one Green Ranger – and you can only meet him at our Eco Fair."