Fairville Friends School hosting its annual family-friendly festival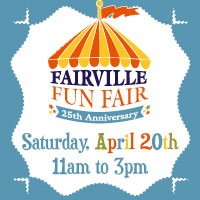 Pony rides, pedal trains, moon bounces, crafts, games, live entertainment, a silent auction, and more will be available Saturday at the 25th Annual Fairville Fun Fair.
Held on the grounds of Fairville Friends School in Chadds Ford, the fair will begin at 11 a.m. and run until 3 p.m. with a rain date of Sunday. General admission is free; ticket purchases are required for activities.
Food will be available for sale and will include items such as Applegate organic (beef or chicken) hotdogs, Season's pizza slices, Shoo Mama's vegetarian sandwiches, and a variety of healthy snacks.
At the silent auction, bidders can choose from an array of items ranging from Philadelphia Eagles' preseason tickets to a signed and personalized print of "Double Dip" by Jamie Wyeth. Outings to family entertainment spots such as Dutch Wonderland, Adventure Aquarium, and the Choo Choo Barn will also be up for grabs.
The Fairville Friends School is located at Rt. 52 and Ponds of Woodward, 216 Pond View, Chadds Ford. For more information, visit www.fairvillefunfair.org.