They will compete at national tournament Memorial Day weekend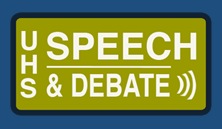 Three more Unionville High students have qualified for the CFL Nationals, a tournament that will be held on Memorial Day weekend in Philadelphia.
Ed Jing and Alex Shin will advance in Public Forum debate, and Matt Scheivert qualified in Student Congress. They will join Nick Caputo, Jason Shao, Sriki Garlapati, Ananth Panchanadam, Virginia Bonds, Connor Fitzgibbon, Shrenik Gadagkar, and Rahul Doraiswamy, all of whom qualified in other events earlier this spring.
The 11 Unionville students will compete for top honors with over 3,000 students from across the country.
Students interested in future speech and debate opportunities are invited to attend practices on Thursday evenings from 7 to 9 p.m. in the high school library or sign up for the Southern Lehigh tournament on Saturday, May 4. The Lehigh tournament is open to both novice and varsity students and provides an excellent opportunity to jump right in, according to coach Sue Hayes.  Contact her at suehayes1@gmail.com  if you would like to participate.