Limited access to UCFSD gyms leaves our kids dreaming of a lost basketball season
To The Editor: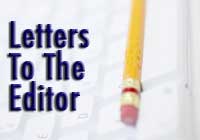 This season, we decided to register our kids (age 8 and 10) for URA Basketball.  We had experienced several great seasons at the Kennett Area YMCA but we made the decision as a family to move over to URA for several reasons.  Our experience with URA Baseball and Lacrosse has been great and most of the kids' close friends were involved in URA Hoops.  URA consists of tremendous leadership and the families involved devote countless hours into developing a top notch organization.  We are grateful to have such a wonderful recreation association in our area.
Our season began in November with great anticipation.  As the season progressed, we learned that the fees for gym rental from UCFSD had gone up significantly.  This increase had been passed along to the paying parents of the participating members by URA.  URA membership is predominantly made up of Elementary, Middle School and High School athletes who are enrolled in our fine schools.   We are truly blessed to have such a wonderful group of engaged teachers, faculty, coaches, administrators and families working within the best infrastructure in the state at UCFSD.  The academic outcomes of our students speak for themselves.
However, I cannot understand why our kids have missed so much basketball this season.  When the schools are closed Mondays for holidays, we have no basketball on Saturdays. When there is any snow or rain whatsoever, we have no basketball.  In fact, basketball has been cancelled twice already this month due to "weather".  This is completely understandable when there is a legitimate snowstorm.  However, in both instances the decision was made to cancel Saturday Basketball on Friday afternoon around 2pm.  In both cases, the roads were dry during the scheduled tip off of the first game.   Other local leagues continued to play during these two weeks without hesitation.
This patchwork season indicates a complete lack of focus by UCFSD around the overall health of our young people in our community.  URA does a great job organizing a program where families can have an exceptional experience.  The problems that Childhood Obesity present have been clearly defined.  Why is access to our school gyms that we are all paying for so limited?  How is it that other programs in the area can continue to host vibrant basketball programs without interruption caused by local school districts?  My vote would be for URA to look for other gyms in the area next year who do not raise prices and then limit access.  This way, our kids can play every week instead of "dreaming" of a lost hoops season..
Erik Dietrich
East Marlborough