Chocolate? Flowers? Meh. Tory Burch? Now you have my attention
By Kelly Hockenberry, Columnist, The Times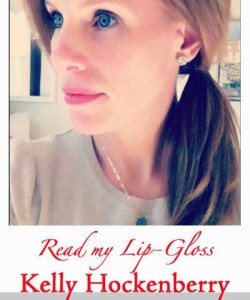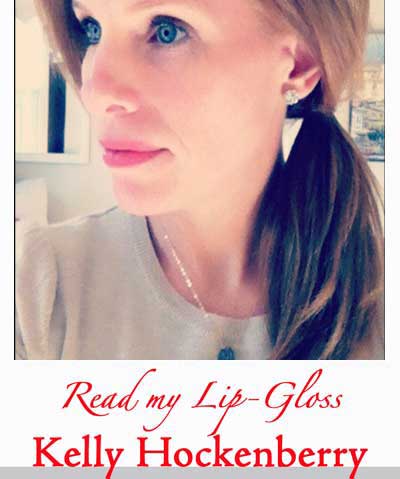 This is the first year that neither of my boys will be handing out Valentine cards at school.
The thought of it actually creates a lump in my throat.  I'm going to miss forcing them to sit at the dining room table, NEATLY signing their names (SO AS NOT TO RESEMBLE A SERIAL KILLER) after explaining, time after time, why it is mandatory to hand one to EVERY child in the class…even the GIRLS (who have cooties, obviously).
Now that they are in the middle and high school, I can only hope that they will at least wear red on February 14th.  (Seriously?  Who am I kidding?)
I do love the concept of Valentine's Day and choose to ignore those who consider it a "Hallmark" occasion.  Although, ironically, I get mad if my husband buys me a card (which costs $5 and I throw away) or flowers (which cost $50 and DIE in two days) or chocolate (please. How is chocolate any different on this day from any other regular day when I eat it as I'm preparing dinner?)
I must admit that I do prefer a REAL gift (as opposed to the clever "Ticket Book of Hugs" or "Coupons for Free Kisses" or some other nonsense).  I think the Valentine's Day gift should reflect how much you love someone.  Put your money where your mouth is, so to speak.
Materialistic?  Perhaps.  But, let's be honest….do you want a construction paper heart with an "I.O.U. a nice dinner out"?  Heck no.  That is bogus.
Give me THIS: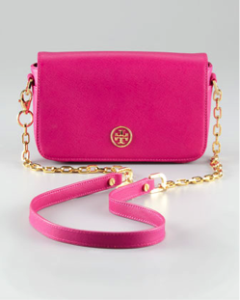 Tory Burch Robinson Mini Bag!
OR
JCrew Collection Cashmere t-shirt!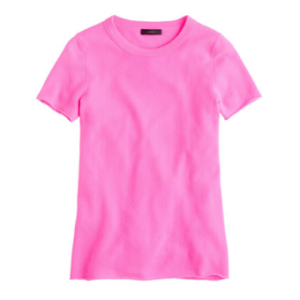 OR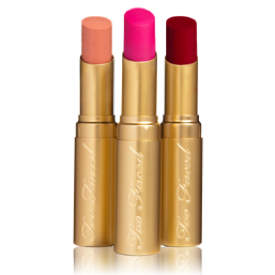 Too Faced La Crème Color Drenched Lip Cream in Fuchsia Shock!
Notice how all of my selections are the appropriate hue for the celebration.
Any one of the aforementioned choices screams "LOVE" to me!  And, all three wrapped in a gift basket means that you REALLY, REALLY love me!
I'm so happy that the timing of this article gives my husband plenty of time to rush out to the mall!
What is on YOUR Valentine Wish list?
Happy Weekend!