Tell local residents to lock homes and cars to prevent thefts
By Mike McGann, Editor, The Times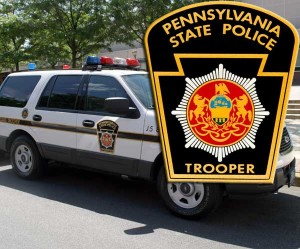 EAST MARLBOROUGH — Chester County might be a seemingly quiet rural area, but State Police are warning local residents that crime is an increasingly evident issue, specifically warning residents to make sure they lock their cars and homes, as drug-driven crime is on the rise locally.
State Police Cpl. Mark Perloff spoke at Monday night's township Board of Supervisors meeting as part of a semi-regular process of public outreach from the troopers at the Avondale Barracks.
The good news, Perloff said, is that even being understaffed, Avondale troopers have been able to put more cars on the road than even just a couple of decades ago. Although State Police remain under staffed, reinforcements are coming from new State Police Academy classes, which should help bring the troop closer to full-strength.
Typically, he said, in the 300-square-mile area covered from the barracks, State Police are able to put nine cars out per shift and sometimes more. Typically, one of those cars, he said, is in East Marlborough. He said back in 1995, in his early days as a trooper, the barracks was only able to put four cars out on patrol in the area.
"We have the ability to have three troopers respond immediately, and five troopers within a matter of minutes," Perloff said.
In combination with the township's part-time police department, Chief Gerald Davis and Lt. Robert Clarke, the township is fully covered at all times — and he said State Police do respond to calls even when municipal police are on duty.
That's the good news, he said. The bad news, though, is that all of that police protection is becoming increasingly needed in southern Chester County, Perloff said.
"There's crime everywhere, there's drug abuse everywhere," he said, noting that even rural quiet areas such as the southern portions of the county are not untouched by crime.
Most of the crime, he said are from robberies to homes and cars, driven in part by drug use.
"Unfortunately, heroin use is on the rise," he said. "Heroin addiction is rampant in Chester County."
He said most of the users are white, middle class "kids." And it's those kids who are committing crimes, sometimes in the communities in which they live to feed their habits.
"This is a great place to target," Perloff said, noting the numerous opportunities for theft.
He did say a big help is to keep homes and cars locked — still something many local residents do not do — as would-be thieves will often move onto an easier target.