Again criticize new DEP/EPA rules that could cost taxpayers $400,000
By Liz Brown, Correspondent, The Times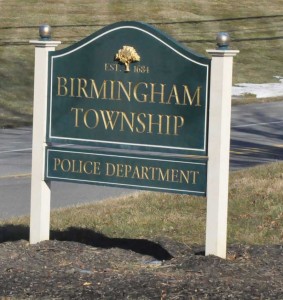 BIRMINGHAM — The township's Board of Supervisors  continue to lament the mandates being handed down by the PA State Department of Environmental Protection (DEP) and the US Environmental Protection Agency (EPA) regarding pollutants being discharged into the local waterways.
At Monday's Board of Supervisors meeting, Supervisor William Kirkpatrick shared with fellow supervisors John Conklin and Scott Boorse his report from the latest DEP meeting he attended.  He explained that according to the latest EPA requirements, nitrogen levels must be "significantly reduced" in the Radley Run waterway by 2015.  Although the township is currently well within the previously established limits, the new requirements will result in the township making costly changes.
Conklin observed the cost of these efforts to the municipalities, and ultimately the residents, result in no clear benefit to anyone. However, given that these are state mandates, the townships have no choice but to comply.  Boorse inquired as to the possibility of seeking a waiver, but receiving a positive reply was seen as unlikely.
A preliminary by township engineer Jim Hatfield — who is also helping to manage the issue in neighboring Pocopson and East Marlborough — suggests that the necessary changes can be made for about $400,000.  Kirkpatrick urged that engineering be started right away due to the imminent deadline. Discussion ensued regarding pursuing possible state or federal funds to help defray these costs. Conklin expressed disappointment that the "academic modeling" the DEP engages in hoping to "resurrect the planet," results in little measurable improvement and spreads the cost to the citizens of each township.
"Hopefully a grassroots movement among municipalities will stop this before the townships go bankrupt," he added.
In other township business, the supervisors upheld the township ordinance requiring homeowners to seek a permit for any work being done to the structure of a home in the township and imposing a penalty fee for beginning work before acquiring said permit.  Louis Yalisove of General Weedon Drive requested that the penalty fee be waived in the case of his roof work, as he did not realize that roof repair would require a permit.  He pointed out that he sought the permit as soon as his error was brought to his attention.
Although Kirkpatrick said he was sympathetic to Yalisove's case, the supervisors agreed that the ordinance was there for a reason and that an exception could not be made.