Household disposal event scheduled for Sept. 8 in New Garden Township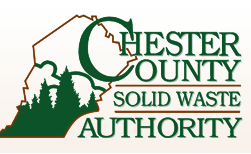 Seventy-two Chester County municipalities are hosting a Household Hazardous Waste Collection Event for residents on Saturday, Sept. 8, at the New Garden Township Maintenance Garage on Rt. 41 near Newark Road in Landenberg, the Chester County Solid Waste Authority announced.
The collection site will open at 9 a.m. and close at 3 p.m. Bring proof of residency but no computers or electronics. Acceptable materials include no more than 220 pounds or 25 gallons per household of cleaning and maintenance products that are labeled toxic, flammable, ignitable, corrosive, reactive, caution, warning, danger or hazardous.
Unacceptable discards are latex paint, used motor oil, tires, medical waste, unidentified waste, commercial and industrial waste, explosives, ammunition and appliances containing Freon.
To dispose of latex paint, which is not hazardous, solidify it by either air-drying small quantities or pouring the paint into a plastic trash bag with an absorbent material like newspaper, rags, sawdust or clay-based kitty litter and placing the bag and the opened can in the trash. Oil-based paint will be accepted at the collection event.
For information on other collection events, visit www.chestercountyswa.org.