By Denny Dyroff, Staff Writer, The Times
Fans who love progressive music with an emphasis on tasty string work – guitar, electric violin, mandolin — should not even think of being anywhere but the Sellersville Theater (24 West Temple Avenue, Sellersville, 215-257-5808, www.st94.com) on the evening of February 10.
The dynamite double-bill will be headlined by John 5 and the Creatures with Joe Deninzon & Stratospheerius as the opening act.
John 5 is a musician with impressive credentials. He has been the guitarist for a number of arena-filling acts including Rob Zombie, Marilyn Manson and David Lee Roth.
He is also a solo artist with nine guitar albums in his discography. His most recent album was recorded with his band The Creatures – Ian Ross on bass and Logan Miles Nix on drums. The album — "It's Alive!" — owes a lot to the previous disc "Season of the Witch," which was released last year.
Both albums relate heavily to the Sellersville Theater. "It's Alive!" was recorded last April when the band played Sellersville while touring in support of "Season on the Witch."
"It really came about unexpectedly," said John 5, during a recent phone interview. "We were at the Sellersville Theater setting up. A guy asked if we wanted to record the show that night and we said yeah. I told the band to be careful with their playing because of it. And, I told the audience we were recording.
"We didn't change the order of the set list. I just told the guys – let's do a perfect show. It's such a great place and the people were awesome. Everybody that was at that show is on this record.
"'Season of the Witch' is my favorite record. It's been incredible paying all these songs."
"Season of the Witch" is a fully-instrumental album that features his band The Creatures and showcases experimentation with various genres such as western swing, Spanish flamenco, heavy metal and straight-ahead rock.
"I've been doing instrumental albums on my own since 2004," said John 5. "What I did with this album, I started with the way people get their music. Last year, I put a song with a video on YouTube. Everyone watches videos. So, I put out one-a-month for six months.
"They were getting a million views. I would have never gotten a million spins on radio. When I was done with the videos, I started rehearsing for the first tour."
Both John 5 and his fans are liking the new album.
"I worked very hard on this record because I had time to do it," said John 5, who has written for acts Avril Lavigne, Ricky Martin, Paul Stanley, Rod Stewart, Lynyrd Skynyrd and Garbage.
"I did everything at Doghouse Studio in Woodland Hills (California). It's a good thing I don't have a studio in my home because if I did, I would be in there every single minute of my life. I worked so hard on this album. I didn't improvise on anything. Everything was planned out very carefully. Every note is what I wanted.
"This album is really who I am. I love all types of music – bluegrass, rock, country, metal, swing, hard rock. I love all music. We really have a wide demographic of fans. I'm covering a lot of genres and people really love it. When you come to our shows, you'll see fans of Rob Zombie and Marilyn Manson, kids who like shredders, adults who are into hard rock and guitar fans. It's a very diverse crowd. That's all I wanr to do – inspire people."
Video link for John 5 — https://youtu.be/LzV_TFu1gZc.
The New York-based band Stratospheerius plays a style of music that defies categorization — a blend of straight-up rock, jazz, folk, fusion, prog-rock and funk. The group's founding member Joe Deninzon describes the band's sound as "psychojazz trip funk."
Deninzon & Stratospheerius are still touring in support of their new album "Guilty of Innocence" with a line-up featuring Michelangelo Quirinale on guitar, Randy McStine on bass, Jason Gianni on drums, and Deninzon on electric violin, mandolin and vocals. It is a different line-up than that which recorded the album.
"There have been 180 different combinations of musicians in this band," said Deninzon, during a phone interview Wednesday evening from his home in New York. I have a pool of 20 musicians who can step in and play anytime. These guys play a lot of gigs with different musicians. Michelangelo is always my main guitarist."
"Guilty of Innocence," which is available through Melodic Revolution Records, includes a reimagined cover of muse's "Hysteria," a 12-minute prog epic titled "Soul Food" (which features Tesar, McStine and Skolnick), and "Dream Diary Cadenza," a solo electric violin extravaganza by Deninzon.
"Making this album was a long process," said Deninzon, during a phone interview Tuesday from Long Island, where he was rehearsing with the band.
"We had a new approach. Usually, we'd get 10 or more songs together and book a studio. This time, we did one of two songs at a time and released them as singles. And, we revisited stiff from 2014 and tweaked it. It was cost-effective – a single here and there.
"Also, it allowed us to make each song the best it could be. We let it evolve naturally. The only real challenge was to make the album sound cohesive – and it does. Nowadays, people expect you to come up with new stuff all the time. But, as a musician, you want your music to be goo – and that takes time."
There were other differences with Deninzon's approach to the new album.
"I wanted to try some different engineers whose work I liked," said Deninzon. "The first four songs I had different people mix them. I ended up mixing a lot of the songs with Alex Saltzman. We tracked two songs at Alex's studio and a few other songs at Rave Tesar's studio."
Deninzon, who plays a special seven-string Trident electric violin known as The Viper, has a diverse music background and a long history with his band Stratospheerius.
"I've had the band for quite a while now — in a lot of configurations," said Deninzon. "I recorded my first CD when I was in Cleveland. It was called 'Electric/Blue' and it was a jazz fusion album. Over the years, I wanted to go in a more rock direction.
"When I moved to New York, I formed the Joe Deninzon Band and it later became Stratospheerius. I've always loved rock and folk music. Back then, I had two things going — playing guitar and singing in coffee shops and playing jazz music with my band.
"I looked at artists like Jimi Hendrix, Stevie Ray Vaughan and John Popper — bands that were instrumentally great and were fronted by a vocalist. I was also influenced by progressive rock bands from the 19780s such as Yes, the Mahavishnu Orchestra and King Crimson."
Deninzon's current lineup could blow away audiences without a single line of vocals — but that's not what he wants to see happen.
"I'm a big rock fan — always have been," said Deninzon, who was born in St. Petersburg (Russia) and moved to Cleveland when he was a boy and his father landed a position as violinist for the Cleveland Orchestra.
"I studied jazz in college but rock is what I wanted to play. Vocals are important. We have a lot of instrumentals but 70 per cent of our songs feature vocals. With all the different genres, I was finding my way over the years.
"A lot of the stuff I write about is a mix of politics and personal life. 'Guilty of Innocence' came from my stint on jury duty. We're quick to point our fingers but not so quick to look inside. Political and societal problems work their way into all my writing. Some of the songs are more personal – things like a lovers' quarrel or missing my kids when I'm on the road.
"Stratospheerius has grown into a progressive rock band — a progressive rock band with cool vocals. Our stuff has gotten more structured. But, I also like the element of freedom. I never play a song the same way twice.
"The current live shows are mostly stuff from the new album and some back catalog. We try to pretty much stick to form from the album. The solos are always different, but the general structure is the same. I like freedom within structure."
Video link for Joe Deninzon & Stratospheerius – https://youtu.be/5Jvx5z7uvFY.
The show at Sellersville will start at 8 p.m. Tickets are $29.50 and $45.
Other upcoming shows at Sellersville are Marcia Ball on February 11, Al Stewart on February 13 and Kalimba: The Spirit Of Earth Wind & Fire on February 14.
Al Di Meola is a guitar virtuoso – and so much more. The veteran guitarist can play at a very high level in a variety of genres – jazz, Latin, jazz fusion, rock and world.
Di Meola can turn in brilliant performances whether he is playing acoustic or electric guitar. When he performs on February 10 at the Colonial Theatre (Bridge Street, Phoenixville, 610- 917-1228, www.thecolonialtheatre.com), he will be in acoustic mode.
"On this tour, I have two other players with me," said Di Meola, during a phone interview Monday afternoon from his home in Jersey City, New Jersey. "I have an accordion player and another guitarist. It will be an all-acoustic show."
Di Meola, who has released close to 40 albums since his debut album "land of the Midnight Sun" in 1976, just recorded his latest LP "Opus," which will be released on February 23 via earMUSIC.
"I recorded the new album last spring," said Di Meola. "I cut it at my studio in North Jersey and I did a few tracks in Hamburg, Germany. I wrote everything in January last year."
Di Meola is still challenging himself and pushing his music towards new boundaries but with a more relaxed way to see things. Over the last few years he has in fact started all over — reinventing himself in both his private life and his music.
According to Di Meola, "With 'Opus,' I wanted to further my compositional skills as I think that the evolution of this part of my persona has labelled me more composer/guitarist than guitarist/composer.  At the same time this record also marks a new era in my life. For the first time in my life, I have written music being happy. I'm in a wonderful relationship with my wife.  I have a baby girl and a beautiful family that inspires me every day. I believe it shows in the music."
There is a marked difference between "Elysuim," his previous album which came out in May 2015, and "Opus."
"When I recorded 'Elysium,' I was going through a divorce," said Di Meola. "I was in the darkest end of the tunnel. But, it finished in a good place.
"When I recorded 'Opus,' I was in a really content place. I have a new relationship and a two-year-old daughter. Still, some of the music is deep and dark.
"I record it and then I write it out. I used ProTools but I have an analog board. All the songs are from the same sessions. The reason I recorded a few tracks in Hamburg was because earMusic is based in Hamburg and they offered a studio. I had a few shows in Germany so I went to Hamburg when I was there."
A bona fide guitar hero and perennial poll-winner, Di Meola has been recognized internationally over the past four decades as a virtuoso of the highest order. A prolific composer and prodigious six-string talent, Di Meola has collaborated with the likes of Chick Corea, Stanley Clarke, Lenny White, John McLaughlin, Paco de Lucia, Jean-Luc Ponty and more.
A pioneer of blending world music and jazz, going back to early Latin-tinged fusion outings like 1976's "Land of the Midnight Sun," 1977's "Elegant Gypsy" and 1978's "Casino," the guitar virtuoso has continued to explore the rich influence of flamenco, tango, Middle Eastern, Brazilian and African music throughout his long career.
Growing up in Bergenfield with the music of Elvis Presley, The Ventures and The Beatles, he naturally gravitated to guitar as a youngster and by his early teens was already an accomplished player.
Di Meola's album prior to "Elysium" was "All Your Life," an acoustic album of music by the Beatles.
According to Di Meola, "I really credit the Beatles for the reason why I play guitar. That was a major catalyst for me to want to learn music. So, their impact was pretty strong."
Much of what has influenced Di Meola throughout his career will be on display this Saaturday night at the Colonial Theater.
"The live show will have music from many of my later albums, including 'Opus,' and 'Elysium,'" said Di Meola. "And, I'll play some songs by Astor Piazolla and the Beatles."
Video link for Al Di Meola – https://youtu.be/KQDKxC9F7pQ.
The show at the Colonial Theatre will start at 8 p.m. Ticket prices range from $32.50-$49.50.
Another upcoming show at the Colonial is Hot Rize on February 15.
If you were asked who Chappo is, you might respond in different ways.
If you're familiar with Native American history, you'd say that Chappo was Geronimo's son. If you're a fan of British music from the 60s, you might say Roger Chapman, the vocalist for the band Family whose nickname was Chappo.
If you're a fan of Hong Kong cricket – and who isn't – you'd think of Mark Chapman (a.k.a. Chappo), who is one of that nation's premier batsman. And, if you're a resident of a certain small town located near Temecula in San Diego County (CA), you'd say "Chappo" is my hometown.
Of course, fans of indie rock bands from the East Coast likely might reply "Chappo is a kickass band" from New York City – but they would write the name in all capital letters.
On February 10, CHAPPO will visit the area to headline a show at Kung Fu Necktie (1248 North Front Street, Philadelphia, 215-291-4919, kungfunecktie.com).
CHAPPO was born in the East Village of New York in 2009 and in a few short years has created an enthusiastic and rambunctious following. Splitting the difference between the guitar driven psychedelia of 60′s west coast rock and the spiritual witch doctor moonshine of Dr. John, they regularly turn their live show into nothing short of spectacle.
After releasing a pair of EPs – "Plastique Universe" and "Plastique Universe II: Pisces Princess" in 2010 and 2011, the band signed with Majordomo Records released its full-length debut "Moonwater" in 2012 and in 2015 dropped its second album "LP, FUTURE FORMER SELF" on Votiv Music.
On February 23, CHAPPO — singer Alex Chappo, guitarist David Feddock, and keyboardist Chris Olson — is releasing its third studio album "Do It" on Votiv Music.
"We recorded 'Do It' in San Francisco in May of last year," said Alex Chappo, during a phone interview last week from Sarasota, Florida. "We were only in the studio for 10 days. That's the fastest we've ever worked on an album.
"We had John Vanderslice as the producer and we recorded it at his studio Tiny Telephone Recording. The process with John Vanderslice was different than anything we've ever done. He didn't want us to take time to analyze things. His attitude was – if it's a god take, great; if not, we start over.
"We made the analog and recorded directly to tape. I love the sonic quality of tape. This was our first professional tape experience. We recorded one of our earlier EPs to tape but that was very D.I.Y. The way John runs his studio – everything is recorded to tape. It never goes to a computer until the very end.
"What I like about it is that you start to cut into the organic nature of what you do and to capture a moment in time. With digital, you can have a million overdubs and changing mixes. Tape makes you embrace the vulnerability more.
"The other thing that was cool with recording with John – he used the term 'painting around the canvas.' We set up drums and keyboards and me all in the same room. He would be recording rhythm tracks but I was also singing. Previously, I'd save the vocals until the end. This time, I actually sang in the middle of the process."
The album was recorded not long after the band went through some challenging times.
A series of tumultuous events occurred in succession. The band parted ways with its drummer. Chappo's best friend committed suicide. A record was begun and abandoned. Feddock and his wife lost their young son.
In the early stage of the writing, this affected everything," said Chappo. "We had six or eight songs that were real dark. Tghat's aprt of the reason it took us so long to come up with songs for the album. But, the writing was therapeutic."
Video link for Chappo – https://youtu.be/bFsfX0dIaaw
The show at Kung Fu Necktie, which has Lito and the Shepherds as the opening act, will start at 8 p.m. Tickets are $10.
Other upcoming shows at Kung Fu Necktie are Whackbat, Mangled Bones, Slophouse, and Weakknees on February 13 and Milo, Elucid and JPEGMAFIA on February 14.
It has been just over two years since David Bowie passed over to the other side.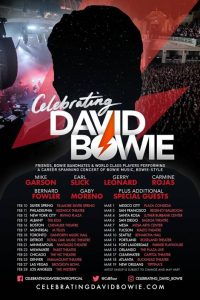 Tributes, memorial gatherings and shows by an amazing variety of tribute bands have continued since the day he died – January 11, 2016.
The majority of those tribute bands are not even worth paying any attention to. Fortunately, there are a few that are worth your attention.
One of them is Celebrating David Bowie, which will be performing on January 10 at the Keswick Theater (291 N. Keswick Avenue, Glenside, 215-572-7650, www.keswicktheatre.com).
The band is out on a 27-date North American trek that features members of David Bowie's bands including Mike Garson.
Garson is the Celebrating David Bowie band leader, who was Bowie's longest and most frequent band member having performed together for both Bowie's first and last concerts in the U.S. as well as 1,000 concerts around the globe in between, Earl Slick, Gerry Leonard and Carmine Rojas. Between them, they have over 30 years' experience of recording, writing and playing live with Bowie.
Also along for the CdB tour are vocalist Bernard Fowler, who is known for his work with The Rolling Stones, and 2017 Grammy nominee Gaby Moreno, plus special guests and other former Bowie band members who may make surprise appearances along the way. More than just a mere salute, this act keeps Bowie's music alive with musicians who worked closely with him throughout his career and other top musicians greatly influenced by him.
The rotating ensemble with world class multi-instrumentalists changing song to song will perform a career-spanning show highlighting elements that influenced Bowie and that in turn Bowie influenced: pop culture experimentation, art, fashion, science and futurism.
Previous special guests from the 2017 CdB shows included Sting, Gary Oldman, Seal, Perry Farrell, The B-52's' Kate Pierson, Ewan McGregor, Simon Le Bon, Gavin Rossdale, La Roux, Joe Elliott, Mr Hudson, Gail Ann Dorsey, Spandau Ballet's Steve Norman, Corey Taylor, Ian Astbury, Darren Criss, Tony Hadley, Living Colour, The London Community Gospel Choir, and The Harlem Gospel Choir.
"There are hundreds of Bowie tribute bands that range from terrible to good," said Garson, during a phone interview last week. "But, none of them have as many alumni as this band has.
"This isn't a tribute band. It is an alumni band with musicians who played on the albums. Earl Slick did 'Station to Station' and a lot more. Gerry Leonard was the musical director for the Reality tour. Carmine played 'Let's Dance'."
Celebrating David Bowie has met with great approval from critics and fans alike.
"We did seven countries last year," said Garson. "We spent a few weeks in Europe with Adrian Belew on guitar. Unfortunately, he wasn't available for this tour.
"In the last year, I've had four different bands. Memories of David ar every precious. I feel responsible to take this band out. Audiences sing the words to every song."
Special guests for the Keswick show will be Living Colour lead singer/founding member Corey Glover and Joe Sumner, the CdB alum and Fiction Plane singer/songwriter who is also the son of Gordon Sumnar (a.k.a. Sting).
"We'll be playing fans' favorites such as 'Life on Mars,' 'Space Oddity,' 'Ziggy Stardust,' 'Suffragette City' and 'Changes'," said Garson. "And, we'll also play some of David's more obscure songs.
"I'm excited to be playing Philly because of the great sessions at Sigma Sound in 1974. All these memories come flooding in. I love Philly. It's comparable to L.A. and New York as favorite places to play."
Video link for Celebrating David Bowie – https://youtu.be/r_BZVMZtDXg.
The show at the Keswick will start at 8 p.m.
Ticket prices range from $39.50-$59.50.
On February 11, Greg Mendez returns to his current hometown for a CD Release Show at Boot and Saddle (1131 South Broad Street, Philadelphia, 215-639-4528,www.bootandsaddlephilly.com).
"This will be a full band show," said Mendez, during a phone interview Monday during a day off in Cleveland. "There are four of us. Evan Bernard is on drums. Ian Farmer is on bass. Cody Wren is playing guitar and I'm singing and playing guitar."
Mendez has been touring with Neil O'Neil (Neil Berthier, formerly of Donovan Wolfington). Both artists are premiering new singles now via GoldFlakePaint. Mendez has released "Gum Trash," off of his album "& Gum Trash," which came out on February 2. O'Neil has released his new song "Turnstile Effect" and will be releasing his debut album this spring on Flower Girl Records.
Mendez has been crafting lo-fi Americana pop songs in his bedroom since 2006. He just started a new full band that includes Evan Bernard of The Superweaks, Cody James Wren of Decent, and Ian Farmer of Modern Baseball.
"I've done a million things," said Mendez. "Recently, I recorded a seven-song EP on an eight-track machine."
That EP – "‾_(ツ)_/‾" — came out last April.
"The album '& Gum Trash' was my first full-band recording," said Mendez. "We recorded it at Evan's studio Big Momma's Recording which is located in Kensington near 15th and Girard. It was recorded in late 2016 and sat around for a while."
"Writing for me cones in spurts. I've been making music for 10 years and I just started writing again."
Mendez is one of Philly's adopted sons.
"I was born in Boston and lived there until I was 19," said Mendez. "We moved to North Jersey and I was there until I was 17. Then, I lived in Philly and New York for 12 years and I'm back in South Philly again
"Writing for me comes in spurts. I've been making music for 10 years and I just started writing again." I usually write on guitar. Or, I'll hear a melody in my head. Lyrics come after that. Then, I start tracking.
"With my live shows, as a band, we mostly do songs from the last two records. When I do solo acoustic, I do both new songs and older songs – stuff that I don't do with the band."
Video link for Greg Mendez – https://youtu.be/a_77iku7USM.
The show at Boot & Saddle, which also features Shannen Moser, Neil O'Neil, and Queen Jesus, will start at 8 p.m. Tickets are $10.
Other upcoming shows at Boot & Saddle are The York Street Hustle on February 10 and Occvlta, Devil Master, and Dumal on February 13.
Kennett Flash (102 Sycamore Alley, Kennett Square, 484-732-8295, http://www.kennettflash.org) will have Seventh Sojourn – The Moody Blues Experience on February 10, and Fresh Faces of The Kennett Flash with Think Machine, Vodka Moms, and Drivers Ed on February 11.
The Steel City Coffee House (203 Bridge Street, Phoenixville, 610-933-4043, www.steelcitycoffeehouse.com) will host The McCruddens on February 10 and Steve Pullara Cool Beans Music on February 11.
The Ardmore Music Hall (23 East Lancaster Avenue, Ardmore, 610-649-8389, www.ardmoremusic.com) will present Eric Roberson with special guests Killiam Shakespeare feat. Reesa Renee on February 10; and "Winter Doldrums – Concert for Suicide Prevention" with Mason Porter, Kuf Knotz, Matt Duke, Andrea Nardello Band, Christine Havrilla, John Faye, Black Horse Motel, Tin Bird Choir, Everything Turned to Color, Lovers League, Michele Lynn's Vilomahed Project, Vilebred, Hannah Taylor & The Rekardo Lee Trio, Brian Flanagan Band, Sonja Sofya, Sweetbriar Rose on February 11.
Burlap & Bean Coffeehouse (204 South Newtown Street Road, Newtown Square, 484-427-4547, www.burlapandbean.com) will present the Laura Shay Band on February 10.
The Keswick Theater (291 N. Keswick Avenue, Glenside, 215-572-7650, www.keswicktheatre.com) presents George Clinton on February 8, Masters of Illusion on February 9, Who's Bad: The World's #1 Michael Jackson Tribute Band on February 10, and Celebrating David Bowie on February 11.
The Sellersville Theater (24 West Temple Avenue, Sellersville, 215-257-5808, www.st94.com) will have BeauSoleil Avec Michael Doucet on February 8, Kasim Sultan's Utopia on February 9, John 5 and Joe Deninzon & Stratospheerius on February 10, Marcia Ball on February 11, Al Stewart on February 13 and Kalimba: The Spirit Of Earth Wind & Fire on February 14.
The Grand Opera House (818 North Market Street, Wilmington, Delaware, 302-652-5577, www.thegrandwilmington.org) hosts The Orchestra with former members of ELO on February 10, and "An Acoustic Evening with Trey Anastasio" on February 13.