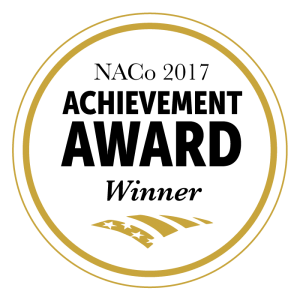 Chester County's Department of Probation, Parole and Pretrial Services has garnered two more national awards for the Women's Reentry Assessment and Programming (WRAP) initiative.
The National Association of Counties (NACo) has recognized Chester County for the WRAP program as part of its 2017 achievement awards under the category of Criminal Justice and Public Safety. This award will be presented to Chester County at this week's NACo conference in Columbus, Ohio.
In addition to the NACO award, the Ash Center for Democratic Governance and Innovation at the John F. Kennedy School of Government, Harvard University recently announced that Chester County's WRAP program advanced from the "top 100" to the "top 25" finalist level from a pool of more than 500 applicants for the 2017 Innovations in American Government Awards competition. Described as "the vanguard of creative, solution-oriented government," the Ash Center top 25 finalists represent the dedicated efforts of city, county, state and federal governments, and address policy issues such as economic development, environmental and community revitalization, public health, equal access to education, criminal justice and health care.
The WRAP initiative was launched in January 2014 following extensive research to meet the needs of women who have been incarcerated, who were struggling for basic survival or who were lacking in skills to transition back into family life. The program began with 50 women, working with one probation officer trained in motivational interviewing and trauma-informed approaches. In two years, WRAP has expanded to the current census of 170 women using three probation officers, two full-time community case managers in partnership with Home of the Sparrow and curriculums and tools that address women's risk factors.
"The success of the WRAP initiative can be measured in a number of ways, most notably through the decrease in recidivism and in probation and parole violations," said Chester County Commissioners' Chair Michelle Kichline. "We also measure improvement in quality of life for the WRAP participants – from living arrangements, finances and spare time to family, social life, friendships and health."
"Not only is WRAP an effective program, it is also easily duplicated," noted County Commissioner Kathi Cozzone. "It has been included as a model pilot program for other Pennsylvania counties to follow by the County Commissioners Association of Pennsylvania."
Nationally, the NACo awards are given in 18 different categories that reflect the vast, comprehensive services that counties provide. The categories include children and youth, criminal justice, county administration, information technology, health, civic engagement and many more.
"Chester County continues to excel in developing and successfully implementing programs that overcome complex challenges," Commissioner Terence Farrell said. "The WRAP initiative is a perfect example of a program that highlights the work of government and community at its very best, and we commend the county staff, agencies and partners who have helped the women of WRAP decrease their number of violations, spend less time in jail and create strong connections to their children, family and the community."