Kennett Square's Dream Catchers featured in 'Young Stars at the Queen'
By Denny Dyroff, Staff Writer, The Times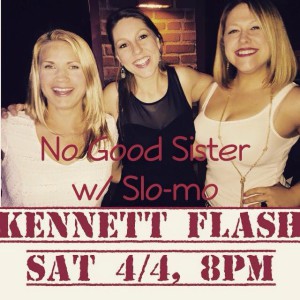 On April 3, it's time for Good Friday at churches all throughout the area. On April 4, it's time for No Good Sister at a club in Kennett Square.
The Flash (102 Sycamore Alley, Kennett Square, 484-732-8295, http://www.kennettflash.org) is celebrating the Easter Weekend with the area debut of the vocal group No Good Sister on April 4.
No God Sister is a trio of singers — Meaghan Kyle, Jess McDowell and Maren Sharrow. This weekend, they will be performing with their band — Mike "Slo-Mo" Brenner on lap steel guitar, Hoagy Wing on percussion and Phil D'Agostino on bass.
"We're a female vocal trio with tight three-part harmonies," said Kyle, during a phone interview Wednesday morning. "And, all three of us are lead vocalists. We all write songs and we take turns singing lead.
"Jess and I met up when we were doing back-up vocals for A Fistful of Sugar, which is a big folk collective — a huge band. Jess and I were car mates and roommates when we did a big tour with them in August 2012.
"Maren was a bartender at one of my favorite haunts — McCrossen's in the Fairmount section of Philadelphia. When the bar's manager had a birthday party there, she started singing. I heard her and realized she had a great voice.
"Jess doesn't have any sisters and Maren and I only have non-musical sisters. We all have wished that we had sisters we could sing harmony with. So, when we got together, we became No Good Sister."
Kyle knew there was something good in the making so she immediately pursued it.
"We started rehearsing in the fall of 2012," said Kyle. "We booked a gig right away to make sure it would happen. We booked the gig before we even had our first rehearsal. It was at a Hurricane Sandy Benefit at Milkboy in Philly. It just started rolling from there. Now, it's a real thing.
"In January 2013, we played an open mic show at the World Café Live at the Queen in Wilmington. We didn't know it was a contest — and we won. They have a contest every month all year and then the 12 winners came back to perform again in January 2014 to determine the winner for the year.
"And, we won again. Suddenly, we were on people's radar. "This year, WSTW had its annual Homey Awards and we were voted 'Best New Artist.' Part of the prize package for winning the contest at the Queen was a showcase show at the 2014 SXSW and recording time at Studio 825 in Wilmington. We used that time to work on our first EP — a self-titled EP that was released in April 2014."
The No Good Sister trio has continued to write and is currently working on its next recorded project.
"We've been in the studio but there are no announcements right now," said Kyle. All three of us write together. We had some musicians that we used for live shows here and there but nothing definite. Then, we came across Mike. He joined us for one show and has been with us ever since.
"Our live repertoire includes 10 originals and a lot of different covers. We do 'She's Not You' (an old Elvis hit), 'Fallin',' which was a hit by Connie Francis and Yazoo's 'Nobody's Diary.' We also do some Stones' songs and some blues."
Video link for No Good Sister — https://www.youtube.com/watch?v=L8tL805CXEg.
The No Good Sister show will begin at 8 p.m. with a set by Mike "Slo-Mo" Brenner and Hoagy Wing. Tickets are $16 in advance and $20 day of show. On April 3, The Flash will host The B-Street Band, a Bruce Springsteen tribute band. Tickets for the 8 p.m. show are $30 in advance and $35 day of show.
If modern rock is like prime rib and classic rock is like aged beef, then the show on April 3 at the World Café Live at the Queen (500 North Market Street, Wilmington, 302- 994-1400, www.queen.worldcafelive.com) is like a smorgasbord of milk-fed veal dishes.
Billed as "Young Stars at the Queen," the concert features an array of promising young music acts — solo artists and bands.
Headlining the show will be Nalani and Sarina — a duo featuring talented twin sisters Nalani and Sarina Bolton. When the nominees were announced for WSTW's Ninth Annual Hometown Heroes Homey Awards, the twins were included in four categories — Album of the Year ("Lessons Learned"), Best New Artist, Best Song ("Hung Up") and Best Live Act.
The concert's line-up also includes the Dream Catchers, a rock quartet from Kennett Square featuring Ryan Dowdall (vocals, guitar), Ben Berdoulay (bass, vocals), Kevin Dowdall (drums, percussion, vocals) and Josh Kearney (guitar, vocals) and Grace Otley, a 15-year-old singer from Hockessin who is the current Miss Delaware Outstanding Teen.
Other acts on the bill are Alex B., a 15-year-old pop singer from Philadelphia; Benjamin Dalske, an eight-year-old Elvis impersonator; Kyle Kandee; Greg & Olivia; and Image of Issues.
The show is slated to get underway at 7 p.m. with tickets priced at $10 advance and $20 day of show. The Queen's Downstairs Stage will also have Splintered Sunlight with Stackabones on April 4.
The Queen's Upstairs Stage will present Megan Betley on April 2; Adrien Reju, Elspeth Tremblay and Angela Burns on April 3; and Dorks and Forks, the Honey Badgers and Nathan Gray on April 4.
A great way to start off this holiday weekend is with a healthy serving of the blues. You can do just that by heading to the Puck (1 Printers Alley, Doylestown, 215-348-9000, www.pucklive.com) to catch a show by blues legend Joe Louis Walker on April 3.
Louis, who grew up in San Francisco, began studying guitar when he was eight. By the time he was 16, he was performing publicly and starting to build a reputation as a top-flight blues artist. Louis turns 66 this December so that means he's been plying his craft for almost 50 years.
His parents were both from the South and they brought their love of blues with them when they headed west. Joe's dad played blues piano, and his mom played B.B. King records. Walker was coming into his own as a guitarist at the same time San Francisco's music scene was developing into a melting pot of blues, jazz and psychedelic rock.
As a 16-year-old, Walker was the house guitarist at San Francisco's famed musical playground, The Matrix, where he played with or opened shows for everyone from Lightnin' Hopkins to Jimi Hendrix to Thelonious Monk. He was also a regular at The Fillmore West.
Over the last half-century, Walker not only has found great success playing his music in America, he has become an international ambassador of the blues and has played in venues all over Europe, South America and Asia.
"I'm getting ready to get on a plane to Romania for a blues fest there," said Walker, during a phone interview a few weeks ago from his home in the Bay Area. "It's called the Sighisoara Blues Festival and it's in Dracula's hometown."
When Walker played the festival in eastern Europe on March 27 and 28, it's a sure bet that it was his music and not a vampire casting spells on people. The veteran axeman is touring in support of his most recent album "Hornet's Nest," which was released last year on Alligator Records.
"I cut the album in Nashville with Tom Hambridge as the producer," said Walker, who was inducted into the Blues Hall of Fame in 2013. "I worked with him on my previous album 'Hellfire.'
"Some songs were new. Some were just written by me by myself and some were collaborations with Tom. We write pretty well together at times. And, some of the songs were older and had been incubating for awhile.
"Tom is really great working with guitarists. He's also a great drummer and a good singer. We both do things outside the box."
"Hornet's Nest" includes12 songs — nine of which are new originals. Billed as a "contemporary blues tour-de-force," its music ranges from hard-rocking electric blues to cool Memphis funk to R&B rave-ups to Sunday morning gospel.
In addition to Walker on guitar and vocals, the album features Hambridge on drums, Reese Wynans on organ and piano, Rob McNelley on guitar and Tommy MacDonald on bass.
"I just wanted the record to be a fun record — for people to have fun and enjoy it," said Walker, who has released more than 20 albums in the last 30 years. "Blues is 'feel good' music.
"With the music scene the way it is now, blues has sort of morphed. You have all these jam bands and classic rock bands playing blues songs. In essence, it's not really the blues. It's hard for musicians like that to make it believable about being broke or sleeping in cars."
Walker definitely understands — and represents — the real essence of the music genre known as the blues.
"Blues is like the comfort of an old friend," said Walker. "It's a rite of passage. If you find yourself in a room with a lot of guitar players of all styles, when they want to play something together, it will be a blues song first and then a Chuck Berry rock-and-roll song second.
"With the shows I'm doing now, we play about 60 per cent of the new album. And, we also do a lot of old favorites."
Video link for Joe Louis Walker — https://www.youtube.com/watch?feature=player_embedded&v=5o1n4we4Jr4.
Showtime for Walker's concert at the Puck is 8 p.m. on April 3with tickets priced at $20 in advance and $25 day of show.
Other shows this week at the Puck are Rootology with Mark Schultz and The Wayne Rangers on April 4 and Lawnboys Comedy Open Mic on April 7.
When Allison Shapira and Kipyn Martin perform their "Joan & Joni" show on April 5 at the Sellersville Theater (24 West Temple Avenue, Sellersville, 215-257-5808, www.st94.com), the show will probably include a bit of praying — and maybe even some candle-lighting — along with the music.
The singers' "Joan & Joni" concert is an homage to the music of 60s music legends Joan Baez and Joni Mitchell. Earlier this week, Mitchell had a health-related incident.
According to Mitchell's website, she was found unconscious in her home and regained consciousness on the ambulance ride to an L.A. area hospital on March 31. She is currently in intensive care undergoing tests and is awake and in good spirits.
In "Joan & Joni," Shapira and Martin, two singers from the Washington, D.C. area, perform many of  Baez and Mitchell's well-known songs, as well as a few of their lesser-known ones. They will also demonstrate the legends' impact on their own songwriting and performance.
"It all started about a year-and-a-half ago when we were attending the NERFA (Northeast Regional Folk Alliance) conference," said Shapira, during a phone interview last week. "We met on a message board. On the seven-hour drives up and back, we found that we both had similar backgrounds — classical training and working in the folk music field. On the drive back, we thought of 'Joan & Joni.'"
Martin said, "We thought of it as a celebration of these women — not just about them but also about the influence they had on today's artists. We also play a couple of our own tunes. I try to show how Joni influenced my music."
Ironically, both majored in classical music in college before gravitating to folk music.
"I got a B.A. in music composition at Shepherd University," said Martin. "I was singing Debussy and Mozart. All my study in college was classical — except the last semester.
"That was when I told my professor that I wanted to do an Americana album. I had been writing songs all along so I tried to merge classical and folk. After I had studied long enough, I knew enough rules to break them."
Shapira said, "I studied vocal performance at Boston University. I did not figure out I wanted to be in the folk scene until late in college. After that, I lost my passion for opera. I didn't sing for 10 years. Then, I missed performing — but not opera. I went to open mics to sing Baez songs.  I borrowed a guitar, took lessons and then taught myself how to play. Then, things clicked."
The catalyst for both their careers was their trip together to New England and the reactive elements were Mitchell's music and Baez' music.
"In our shows, we alternate between Joan Baez and Joni Mitchell songs," said Shapira. "And, we collaborate on some songs. Both of us sing 'The Circle Game' together."
Martin said, "We got the domain name for 'Joan & Joni' last year and started our first rehearsals about six months later. We made our debut in January 2015 in the D.C. area."
Shapira said, "Kipyn and I are performing the songs in our own way. We didn't want to be just a tribute act. We are not Joan Baez or Joni Mitchell. We sing their music in our own way and, with the introduction of our own music, we show the effects of Joan and Joni."
Video link for "Joan & Joni" — https://www.youtube.com/watch?feature=player_embedded&v=Eh_54QO6kcs.
The show on April 5 will start at 7:30 pm. with tickets priced at $25 and $35. Also on the bill, A.J. Swearingen and Jayne Kelli will be performing "The Music of Simon & Garfunkel."
Other shows over the next week at the Sellersville Theater are The Elders and Fake Mackenzie on April 2, Nu-Blu and Barleywine on April 3, Linda Eder on April 4, and Yarn and Marc Silver on April 8.
On April 7, MilkBoy Philly (1100 Chestnut Street, Philadelphia, 215- 925-6455, www.milkboyphilly.com) will feature the area debut of Big Search on a twin-bill that also features Brazilian singer-songwriter Rodrigo Amarante. Big Search is the ever-present alter ego of Matt Popieluch.
"It's basically me and whatever musicians I have playing with me," said Popieluch, during a phone interview last week from his home in Los Angeles. "It's just whatever comes out of my brain.
"The musicians change depending on what I need and who's available. On this tour, I'm opening for Rodrigo and we're going to share some musicians. I'll do the first half of my set solo and the second half with some of the guys from Rodrigo's band.
"I met Rodrigo through a friend of mine who plays drums for him. I was playing with Sky Ferreira at the time. We played at the same festival in Barcelona and later on the same bill for a show in Portugal. For these shows, I'll be playing acoustic 12-string with at least bass and electric guitar — and hopefully drums."
Popieluch spent his early years in Connecticut and then Hong Kong before ending up back in California.
"My dad worked for Bank of America so that's why we moved where we did," said Popieluch. "I started playing music when I was in Hong Kong. I went to high school in Danville (California) and then majored in urban studies at San Francisco State. I've been doing music professionally ever since I got out of college."
After over a decade of making music in various bands (The Cave-Ins 1999-2003, Foreign Born 2003-2010, Dream Legal 2012-present) and guesting in bands such as Fool's Gold, Glasser, Cass McCombs, Taken By Trees and Sky Ferreira, Popieluch has been steadily making his own music.
As Big Search, he has released the "Lay of the Land" LP (2010), "Middle Man/Getting Warm" seven-inch (2011), "Distant Shore/Lost Coming Down" seven-inch (2012), and the "Role Reversal" LP (2014).
"There's kinda been a few other Big Search albums — but extremely under the radar," said Popieluch. "The last album 'Role Reversal' was a digital-only release but I will have CDs of it available for purchase at the shows.
"The album before that was 'Lay of the Land.' I've also made a new album that's not out yet. It's all done — all wrapped up — but I'm still looking for a label. I'm already playing songs that are newer than that. But, I still go back and do older stuff, including my single 'Distant Shore.'
"The name Big Search came from a song I wrote back when I was in college. A friend started calling me Big Search and it stuck. I've been using that name for a long time."
Video link for Big Search — https://vimeo.com/119207117.
The show at MilkBoy Philly on April 7 will get underway at 8 p.m. Tickets are $12 and $15.
On April 2, the Steel City Coffee House (203 Bridge Street, Phoenixville, 610-933-4043, www.steelcitycoffeehouse.com) will host what it bills as "The Finest Open Mic in the Galaxy." The evening, which will be hosted by Joe Pasternack, is slated to run from 7-11 p.m. Sign-up begins at 6:30 p.m.
The show on April 3 will feature Prima Donna along with Sierra Kameron & Patty McCabe. General Admission is $12 in advance and $15 day of show. The concert at Chaplin's on April 4 features Jim Boggia. General Admission is $16 advance and $18 day of show. The music starts at 8 p.m. and the doors open for dinner by 7 p.m. both nights.
On April 2, Chaplin's (66 North Main Street, Spring City, 610-792-4110, http://chaplinslive.com) will host an "Open Bluegrass Jam." On April 3, the club will present 9 5ive 4our featuring Christine Havrilla, Gretchen Schultz and Christine Moll. Peter Wisner will perform at Chaplin's on April 4.
The Ardmore Music Hall (23 East Lancaster Avenue, Ardmore, 610-649-8389, www.ardmoremusic.com) will have Dumpstaphunk and Aqueous on April 2, Box of Rain on April 3, and Vilebred, John Galla Band, Alec Stewart and Chelsea Sue Allen on April 4.
Burlap & Bean Coffeehouse (204 South Newtown Street Road, Newtown Square, 484-427-4547, www.burlapandbean.com) will present Seth Glier with Joy Ike on April 2.
Melodies Café (2 East Ardmore Avenue, Ardmore, 610-645-5269, www.melodiescafe.com) will host Nathan Earl & Rachel Joy, Jeremiah Tall, Former Belle and Elisha Kane on April 3, Ryan Cohen and Jeni Englund on April 4, and Dave Patten and West Chester's Eloise Sharkey on April 8.
The Keswick Theater (291 N. Keswick Avenue, Glenside, 215-572-7650, www.keswicktheatre.com) presents "Jesus Christ Superstar" form August 2-4 and hosts David Sedaris on April 8.
The Candlelight Theater (2208 Millers Road, Arden, Delaware, 302- 475-2313, www.nctstage.org) is presenting "How to Succeed in Business Without Really Trying." The show won seven Tony Awards, the New York Drama Critics Circle Award, and the 1962 Pulitzer Prize for Drama.
The musical is a comedic story that was also a hit film. A satire of big business and all it holds sacred, it follows the rise of J. Pierrepont Finch up the corporate ladder from lowly window washer to high-powered executive. Tickets, which include a tasty buffet dinner, are $59 for adults and $33 for children (ages 4-12).
Rainbow's Comedy Playhouse (3065 Lincoln Highway East, Paradise, 800-292-4301, http://rainbowcomedy.com) is presenting "The Hallelujah Girls" now through May 23. Matinee performances are every Tuesday, Wednesday, Thursday and selected Saturdays with an 11:30 a.m. lunch and a 1 p.m. curtain.
Evening performances are every Friday, Saturday and selected Thursdays with dinner at 6:30 p.m. and the show following at 8 p.m. There will also be "Twilight Performances" on selected Sundays with dinner at 2:30 p.m. and the show at 4 p.m. Ticket prices range from $30-$55.