Pennsylvania American Water, a subsidiary of American Water (NYSE: AWK), announced today that it has signed an agreement to acquire the wastewater assets of Sadsbury Township in Chester County. The total value of the transaction is approximately $9.25 million. The Sadsbury wastewater system serves approximately 1,000 customers. Send article as PDF

With weather forecasters predicting cold temperatures very soon, Pennsylvania American Water today advised homeowners to prepare their homes now to prevent frozen and damaged household pipes. "We have experienced some mild winters in recent years, but that doesn't mean customers should neglect to protect vulnerable areas of their homes to avoid frozen pipes that can burst and result in costly damage,"...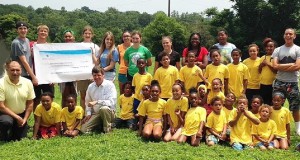 Brandywine Red Clay Alliance received a $4,500 grant from PA American Water COATESVILLE, Pa. (July 7, 2015) – Pennsylvania American Water said today it awarded one of its 2015 Environmental Grants to the Brandywine Red Clay Alliance, which is among seven watershed initiatives across the state that earned financial support through the company's Environmental Grant Program. ...