Prolonged period of dangerously hot temperatures predicted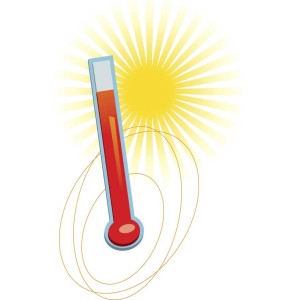 WEST CHESTER – The National Weather Service advises that a major excessive heat event is expected to hit Chester County beginning tomorrow, a period of high temperatures that may extend into Friday, the county's Department of Emergency Services said in a press release.
The release said the county is currently under a heat warning, which means that a prolonged period of dangerously hot temperatures will occur. The combination of hot temperatures and high humidity will create a dangerous situation in which heat illnesses are likely. Maximum heat index values above 105 are possible. Thursday is predicted to be the hottest day of the event, the release said.
County officials offered the following recommendations: Citizens should drink plenty of fluids, stay in an air-conditioned room, stay out of the sun, and check up on relatives and neighbors. Those who do not have air-conditioning should go to places that do, such as malls, libraries, and senior centers.
Those working or spending time outside should try to reschedule strenuous activity to early morning or evening and take frequent breaks. Know the signs and symptoms of heat exhaustion and heat stroke. Wear light, loose-fitting clothing when possible and drink plenty of water. Anyone overcome by heat should be moved to a cool and shaded location. Heat stroke is an emergency – Call 9-1-1.
Pets also require special care since they do not perspire and rely on panting, wetting down, shade, cool earth and drinking water for cooling.
To get additional weather alerts, sign up for Chester County's emergency text alert ReadyNotifyPA – www.readynotifypa.org . Also you can follow the county's Department of Emergency Services on Facebook at www.facebook.com/ccdes and Twitter at www.twitter.com/ccdes or our website at www.chesco.org/des.