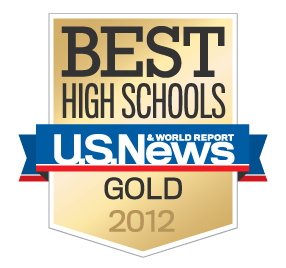 School earned gold-medal status from U.S. News & World Report
A national news magazine gave Unionville High School cause for celebration last week, awarding it gold-medal status.
U.S. News & World Report ranked the school fourth in Pennsylvania out of 752 schools and among the top 500 high-performing, public high schools across the country.
"I am incredibly proud of the hard work and diligence on the part of UHS students, as well as the professionalism of our incredibly talented teaching staff that resulted our being ranked No. 394 out of 22,000 high schools across the country," said Unionville Principal Paula Massanari. "That is wonderful news and one more indication that our students are well prepared for college and the workplace when they graduate from Unionville High School."
According to the magazine, the fourth edition of the Best High Schools included data on nearly 22,000 public schools. The schools were first analyzed at the state level in terms of how well students in each school performed on state assessments, taking into account the test scores of disadvantaged students, who tend to score lower on tests.
High schools that made it through this analysis were then eligible to be ranked nationally, in terms of college readiness, the magazine said. U.S. News determined the degree to which schools prepared students for college-level work by analyzing student success in Advanced Placement (AP) or International Baccalaureate (IB) programs, both of which include college-level courses.
The rating showed that 95 percent of the school's 1,381 students are proficient in reading and 90 percent are proficient in math. In addition, the school showed a participation rate of Advanced Placement coursework of 53 percent. Only one other Chester County school appeared in the state's top 10: Conestoga, which ranked third.