Supervisors agree to approve property owners' projects
By Nicole Brown, Correspondent, UnionvilleTimes.com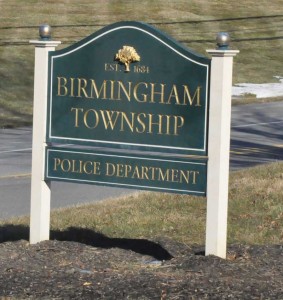 BIRMINGHAM — Township supervisors have decided to support a couple of township property owners plans to "go green," a process that played out over a couple of board of supervisors meetings, but were give supervisors support this week.
At the meeting on April 16, Jim Westwood, a representative from Advanced Solar Industries, presented the plans to put 987 solar panels on the roof of the Stoltzfus RV & Marine sales building, located on Route 202. These panels will provide electricity to the building, which will drastically decrease the company's use of nonrenewable energy sources, Westwood said.
One issue that came up in the discussion concerned the glare from the panels. Supervisor William Kirkpatrick expressed his concern that a glare would cause problems for the traffic on U.S. 202. Westwood explained that the panels have "anti-reflective surfaces," so there should not be a major glare problem. Kirkpatrick said Westwood should be prepared with more research regarding the panels when he goes to the Zoning Hearing Board, which has to make the final approval.
Also at the meeting, another township resident, Mr. Wright, asked the township for its approval of a drip irrigation system on his property on General Wayne Drive. Drip irrigation is considered the most effective type of irrigate. It saves water by slowly dripping water directly into the roots of plants.
Wright explained that the new system would require more maintenance than a normal septic system. The supervisors agreed to approve Wright's permit after the township solicitor developed a maintenance agreement between the township and the owner of the property because as Secretary Quina Nelling pointed out, the township would be held responsible for any maintenance problems. This agreement was documented and signed at the supervisors meeting on May 7.
Kirkpatrick thanked Wright for introducing the township to "on-site, non-traditional systems."
The township supervisors are pleased with these two agreements, as they are major improvements to the environment and the "greener" planet as a whole.