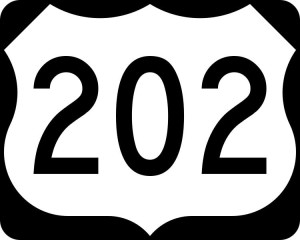 The end of the seemingly endless reconstruction work on US-202 in Westtown and West Goshen Townships is approaching, officials from the Pennsylvania Department of Transportation (PennDOT) said this week.
The final paving operation on the 4.3-mile stretch of 202 in West Chester will slow nighttime travel between Matlack Street and Route 100 through Thursday from 8 p.m. to 5 a.m., the agency said. The section will be restricted to one lane in each direction nightly as crews add the last layer of asphalt on the four-lane highway. Motorists are advised to allow more travel time or use an alternate route since backups and delays are expected.
The $19.3 million project is scheduled to finish in late May. PennDOT said. Work has included replacing deteriorated pavement, reinforcing the roadway shoulders, patching and repairing eight bridges, painting steel beams on three bridges, removing and replacing five overhead signs; adding new signs; installing new guide rail and median barriers; and installing safety rumble strips and pavement reflectors.
The construction has caused local traffic delays — especially during rush hours. At times, traffic has backed up along US-202 to Route 926 and into Birmingham as morning commuters have attempted to get to work.