Donations accepted starting this Friday; table rentals also available
By Suzanne Misciagna, Correspondent, UnionvilleTimes.com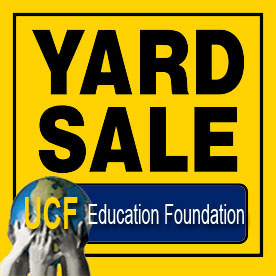 EAST MARLBOROUGH – If you've got the Spring cleaning bug, look no further than the Unionville Chadds-Ford Education Foundation's (UCFEF) Fourth Annual District-Wide Yard Sale.  This year's community-wide sale takes place on Saturday, May 5 from 8:30 a.m. – 12:30 p.m. at Unionville Elementary School, 1775 West Doe Run Road, in Kennett Square.
The yard sale, now in its fourth year, offers the community the chance to 'clean out the clutter' while supporting a worthy cause.
The district-wide yard sale is sponsored by the Unionville Chadds-Ford Education Foundation (UCFEF), a non-profit charitable organization, formed in 1995 by a group of parents to support the education and development of children in the Unionville Chadds-Ford school district. Foundation members include parents, professional educators, business people, and residents of the school district.
All proceeds from the yard sale go directly to the foundation which supports all Unionville Chadds-Ford schools.
The UCFEF is seeking donations of general household items and furniture to support the sale. All items must be in good condition and are tax deductible. Clothing donations cannot be accepted.  For larger items, such as furniture, special pick-ups can be arranged. Visit the yard sale website at www.ucfef.org for more information.
Yard Sale Co-Chair, Becky Stillman, started the sale four years ago as a means to raise funds for the UCFEF while providing district families with a low cost fundraising opportunity. "The yard sale has a low overhead cost for the district and is a fundraiser that many families can afford to support year after year," says Stillman. "We know that many neighborhoods do their own yard sales. We offer the community an option to do their yard sale with us," she adds.
In addition to dropping off donations, table rentals are available for $30, giving sellers the chance to sell their own items at the yard sale while keeping all the profits. "About half of the yard sale represents donated items and half are table rentals," adds Stillman.
If you are interesting in purchasing some furniture, Stillman has some advice – get there early. "Typically, furniture sells within the first hour." Larger items and decorative items, such as paintings, also sell quickly. "By the end of the sale, almost everything is sold," adds Stillman.
"Every year the sale continues to grow," says Alicia Lyons, who co-chairs the event with Stillman. "The yard sale has a great reputation which means an increase in donations each year and ultimately an increase in the amount of money we raise for the foundation."
Over $2,000 was raised from last year's sale.
The UCFEF takes these proceeds and uses them to support grants district-wide. "All of the money from the yard sale goes directly to the Unionville Chadds-Ford Education Foundation which supports grants that the teacher's apply for," says Lyons. These grants support school-related activities that are not currently funded by the school budget such as school assemblies and the introduction of new technologies.
Students, such as members of the Unionville High School Honor Society, support the sale too by sorting and pricing items while earning community service hours for their time.  Members of the high school's Best Buddies Club, led by Unionville High School senior, Marina Haley, will offer baked goods at the yard sale while raising money for their club which facilitates friendships between students with and without disabilities. Haley has volunteered at the yard sale since its inception.
"We receive a lot of support from the district, from parents, and from students," says Lyons. They rely on the support of these volunteers to make the sale happen.
For more information on the yard sale, visit www.ucfef.org.
Donation Drop Off Dates:  April 27, May 2, and May 4 from 3:30 p.m. – 6 p.m. at Unionville Elementary School, 1775 West Doe Run Road. Set up for table rentals is 7:30 a.m. on May 5 in the Unionville Elementary School cafeteria on the lower level. To obtain a table rental agreement, contact Becky Stillman at ris1971@msn.com.