The Kentucky Derby came early for Unionville, as thuroughbreds Abens and Newbrought run by Vikings By Dave Conard Sports Editor, UnionvilleTimes.com
EAST MARLBOROUGH—It's a forgone conclusion that almost every one has seen the Disney hit "Finding Nemo", where the clown fish Nemo is captured by a diver which starts a search by his father Marlin, who is helped along his journey to retrieve his lost son, by the short memoried, always optimistic Dori, who lives by a simple motto "just keep swimming."
After back to back losses to Great Valley and Rustin, their first of the season, Unionville head coach Wendy Landry adapted the little blue and yellow hero's advise, sharing it with her squad, more specifically seniors Kris Abens and Kristen Newbrough, instructing her "big guns" to "just keep shooting".
The duo responded combining for 19 shots on net, 10 goals and two assists in a hard fought 13-10 Ches-Mont league win over West Chester East as a blanket of pink was draped over Unionville Stadium during the Indians annual "Unite for HER" event to raise money and awareness for families dealing with cancer.
"Coach Wendy told us to just keep shooting," said Abens, who has committed to Lehigh University. "We absolutely needed to get a win tonight, I think she (Newbrough) beat me by one shot, but we did what we needed to. We play such a tough schedule and have played four great teams in a row so every win now will help us come play off time."
"I love Dori, who doesn't." said Kristen Newbrough, who has committed to Dusquesne.
"We really got a wake up call last week against Great valley and we wanted to get it back on track, I think I had like ten shots tonight, fortunately I was able to put a few in and we got the win, t6his was very big for us on the Pink night."
It looked like it was going to be another one of those days as the Viking bolted to a 2-1 lead just 2 minutes into the tilt, before Newbrough (6 goals, assist) got things going for the hosts, posting two goals in less than a minute to even the game at two each, before Abens (4goals, assist) nailed down her first of the game, giving the Indians a 3-2 edge.
West Chester East was not going to quickly into the night as the feisty Vikings scored three consecutive goals to storm out to a 5-3 lead and carry all of the momentum setting the stage for Unionville net minder Nikki Bonaduce.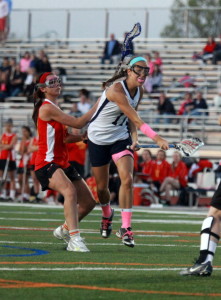 At the 12 minute mark of the first half, Bonaduce, who recorded 11 saves on the night, stepped up, after allowing a couple of goals early on that she would definitely like to have back, by stoning Vikings attacker Emma Hager (3 goal, 2 assists) at point blank range.
As the teams came out of the break with the score knotted at seven apiece, the Indians dynamic duo got right back to it helping U outscore the Vikings 6-3 in the second half, with Bonaduce again rising to the occasion, recording two clutch saves with 18:10 left in the game and the Indians clinging to a 9-8 lead.
The speed and over all hustle of the Indians wore on east as the game went on, forcing the Viking into mistakes and turnovers. Unionville was one step ahead almost the entire second half cycling the ball and using movement to open up the scoring lanes for Abens, Close, Newbrough and Annabeth Donovan, who chipped in two goals in the contest.
Unionville (5-2-1), closed out the Viking with three goals by Newbrough and another tally by Kelly Close in the last ten minutes of the game to emerge from the fray with the victory.
"We have to keep it going now," added Newbrough. "We absolutely needed a win tonight, but we have some difficult games coming up. If we continue to work on making good decisions and taking shots when we have them and communicating on defense we be able to put some wins together and build momentum."
To view or purchase photos from the Unite for HER game paste and click the following link
http://www.photostockplus.com/home.php?tmpl=159&user_id=63742&action=viewalbum&event=1055573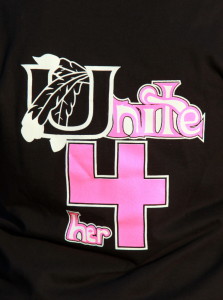 West Chester East      7            3            -10
Unionville                     7            6            -13
West Chester East
Hager 3 goals,  2 assists
Stevenson 2 goals, assist
Lobb 2 goals
Burke 1 goal
Lethers 1 goal
Luidens 1 goal
Venuti  5 saves
Unionville
Kristen Newbrough 6 goals,  assist
K. Abens  4 goals,  assist
A. Donovan 2 goals
K. Close 1 goals
Nikki Bondauce 11 saves