Unionville's annual Stadium night rugby games were a big hit, as Under 15 boys team wins By Dave Conard Sports Editor, UnionvilleTimes.com
EAST MARLBOROUGH—If you passed many members of the Indians girl's rugby team in the local mall, some of which weigh less than 90 pounds,  you might never imagine that these extraordinary young ladies can mix it up with the best of them in a sport that equates to American football with the protection of pads or even helmet for that matter, but they can and do very well.
On Friday night, the lady ruggers from Unionville took Stadium synthetic turf with their hated rival Downingtown, who just returned form a tour in Europe where they went 2-0-1, squaring off in their annual Stadium game where the seniors are highlighted prior to the fireworks on the field.
Despite battling tooth and nail for every second on the clock, Unionville could not over come the few mistakes they made leading to a 22-0 visitors win as the lady dingoes posted two second half tries, following a possession deep into Downingtown territory.
Unionville controlled possession of the ball for most of the later stages of the first half and an apparent try just before the intermission, but it was ruled that there was a forward pass negating the score.
Late in the second half, the Indians again threatened only to lose the ball at the 2-yard line, from which Downingtown again posted a try building the lead to 22-0.
"They (Unionville) have really improved," said Downingtown head coach Rich Bailey "This is always such a tough battle for us. We just got home from Ireland where the girls not only learned so much about the game, but got to play against some very good sides."
Unlike in other sports, Downingtown has the added bonus of having players on the side from Downingtown East and West High Schools, an obvious edge in the numbers game.
"This club is special, because it is the last of the old Downingtown," added Bailey, "these girls know each other and play together even though they go to different high schools, some of their siblings play together as well so it makes it pretty cool for the girls."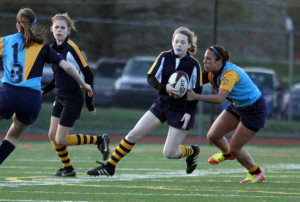 Unionville (4-1), who were awarded the trophy for tournament champion in Charlotte, will get right back to it as they prepare for the remainder of the regular and post season.
"We will continue to train," said Unionville senior Sarah Cruz-Orhz, who tips the scales at 95 pounds soaking wet. "My sister ahead of me played, rugby has always been a part of my life and this group of girl's is amazing to play with, I just love it."
To view or purchase action photos  from the entire game click on the following link:
http://www.photostockplus.com/home.php?tmpl=127&user_id=63742&action=viewalbum&event=1067213