Asking East Marlborough to join it in taking roadway back from PennDOT
By Mike McGann, Editor, UnionvilleTimes.com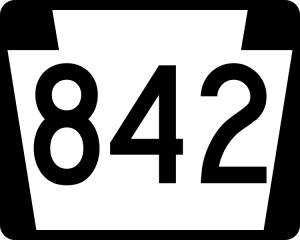 EAST MARLBOROUGH — Time was, local townships were happy to have the state take over local roads and the costs to pave and maintain them. But increasingly, local governments are looking to regain control over roadways — in part to slow expansion, better control traffic and to maintain the local rural character.
West Marlborough is asking East Marlborough to help do exactly that with a portion of Route 842 from Bird Road to Rt. 82.
West Marlborough supervisor Bill Wylie appeared at Monday night's East Marlborough Board of Supervisors meeting asking his neighbors to join in taking back Rt. 842 from the Pennsylvania Department of Transportation (PennDOT). PennDOT has been encouraging turnback of roadways from the state to local bodies — a portion of Rt. 82 was turned back to East Marlborough some years ago.
Unlike most neighboring states, Pennsylvania has very few county-maintained roads, which has meant that the state has had a larger than typical share of state-maintained roads. PennDOT has been working to change this by offering municipalities funds to take the road ways back — with both a one-time lump sum for the roads as well as increased rate from the liquid fuels tax funneled to local communities for reclaimed roads. Still, Wylie conceded, that even with those incentives, taking the road back would ultimately mean higher costs for both townships.
Wylie said his township's concern is that PennDOT might eventually seek to widen 842 and make it easier to use for large trucks and other traffic, potentially spoiling the rustic character of the township. Wylie also noted that any traffic expansion would be coming from out of town — West Marlborough is one of the few municipalities in Chester County that has actually seen declines in population in each of the last three U.S. Censuses. Furthermore, he said, 75% of the land in the township is deed restricted, while fully 85% of the township is in the agricultural preservation zone.
"The increase in traffic is a function of development in the towns around us," Wylie said. "At this point, we're facing concerns about the quality of life." Wylie also cited issues with getting PennDOT to approve needed traffic adjustments — noting that the township had been rejected by PennDOT in seeking to add stop signs at the Rt. 926/Rt. 841 intersection, after there were issues with accidents at that location.
West Marlborough, Wylie said, would like to expand current cooperation on the roadway which now includes some snow clearance.
Although East Marlborough officials seemed supportive of the concept, they said that a lot more information is needed, including input from their roadmaster, Dennis Mellinger. An informal meeting between officials of the two townships is likely to further discuss the details before either body is ready to move forward on a formal basis.