UHS girls hold off parents/coaches; UHS boys dominant over URA All-Star Squad
By Dan Block, Special to UnionvilleTimes.com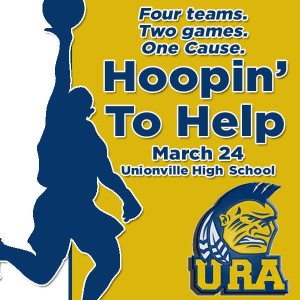 EAST MARLBOROUGH —Hundreds of local residents turned out Saturday night to honor the memory of a local basketball legend — Al Lewis — and were treated to some amazing basketball, all to support a great cause.
Legendary Coach Alonzo Lewis, who died at age 77 last month after a car struck him as he crossed a street. He began as head coach Chester High School in 1985, five years after he was inducted into the Big Five Hall of Fame after having established himself as an elite player while attending La Salle University.
I was not fortunate enough to have seen him play but I have fond memories of attending Big Five basketball doubleheaders at the Palestra with my brother, my father (Mort Block, assistant commissioner of the URA Girls Senior Division and my long time partner in coaching in URA) and friends. But just as the Big Five was an institution in the Philly college basketball scene, Coach Lewis was an institution at Chester High School. He was passionate about both education and mentorship, and the beneficiaries of that passion extended beyond his players to those who coached with him as well.
He would lecture his players/students for up to two hours daily and when they weren't playing they were learning not only how to play basketball the right way but also about life and how to use basketball as a way to succeed in life while avoiding some of the major pitfalls of living in the inner city, where temptation lurked around every corner. Practices were held 6 days a week and players often did not get out of practice till 8 PM. Two state titles, six league championships and a .780 winning percentage during his time at Chester High school were proof enough that Coach Lewis' message hit home.
In 1995, he became the head coach at Cheyney University. Perhaps what was most striking about Coach Lewis was that he maintained a sense of family in his basketball program. Players' siblings and coaches' children were invited to attend practices and to even practice their shooting on side baskets and were welcome in the locker room as well. His players were also held accountable in the classroom. So, it is in the spirit of his sense of family that this amazing community in which we live has yet again rallied in a time of need, this time coming together for the Lewis family to honor the memory of Coach Lewis, a legend in his time but first and foremost a husband, a father, a family man.
Before the game summaries, I think it is vitally important to note that Brian Ladd, the URA Basketball president, took a simple UHS High School Boys challenge to play an all-star team from the URA Boys high school division and make it a benefit event. Picking up with this idea were Darlene Flores and her family (Carlos, Micayla, Hayley & Ryan) as well as the McGinnis family (Helena, Sean, Trace, Sienna and Elettra) and Bev Breeding — who worked tirelessly to make the event happen. They worked tirelessly to help plan the details of the event to make it a reality. Special thanks to Tom and Susie Pancoast of Mulch-It who offered major financial support and Susie set up and ran the highly-popular snack bar.
Now to the fun part.
GAME 1: UHS LADY INDIANS VS ORTHOPEDIC DREAM TEAM
MAIN COURSE SERVED FIRST: GERIATRIC HOOP DREAMS DASHED IN THRILLER
UHS Lady Indians 53, Orthopedic Dream Team 52
If anyone would have said the opening game would actually turn out to be the main attraction, there may have been polite agreement and some snickering, all in a lighthearted fashion of course, but that is exactly what happened. Coach Mort Block huddled his team up prior to introductions and simply said one word: WIN. And they almost did, but in the end I don't think anyone would argue with the result or about how exciting this game actually was.
The tone was set early, with the geriatric gassers actually pulling out to a 12-5 first quarter lead, which had the high school sweethearts scratching their heads and beginning to wonder if old dogs actually could learn new tricks. By halftime, they were still up, 24-20, but by then end of three quarters the young legs of the high school team had managed to even it up at 34, which lead up to the roller coaster ride that was the 4th quarter. The lead began to change hands repeatedly and with about 10 seconds remaining it looked like the leader of Covert Ops, John "The Beast" Covert, had "Ensured" it for the knee braced nightmares with a strong move in the paint.
But celebrations on the elders' bench were premature, as Coach Sienna McGinnis called time-out and set up her plan to get the ball to the Lady Indians monster in the middle, Micayla Flores. And it worked. Fighting off a double team trapping defense, Micayla Flores, who finished with 12 points, unplugged the geriatrics from life support with a power move and shot the arrow to seal it with 1.6 seconds. Coach Block called time out and designed a play for Covert-Ops one more time, with this one reminiscent of the end to the 1972 Olympics, but the long inbounds pass sailed harmlessly into the arms of a waiting UHS defender and that brought to an end a very exciting and entertaining game.
For Coach Block's Metamucil Guzzlers, John Covert had 12 points, Kurt Hutter dropped 10 points while Stephan "Slash" Samulewicz added 8. The Thames Tandem had 4 apiece, with the female counterpart (Joanne) showing a deft shooting touch. Maureen Mason, when not busy grabbing daughter Emily and threatening no dinner and no social life for a month if UHS won also added 4 points. Ken "Scheuer Shot" Scheuer, hoping to outdo daughter Casey "The Real Scheuer Shot", didn't – he scored 2 points to join Darlene Flores and Rob Schrof, who each also scored 2 apiece.
Commissioner Dan Block, who made the pregame promise NOT to shoot, almost kept it (0-2 shooting), but dished out 6 assists while almost bewildering the Lady Indians defense with his ballhandling. Tony Zambino made his presence felt on defense. For the Lady Indians, Ali Lewis, perhaps playing with extra zeal that would have made her father proud, finished with 6 points while playing most of the game. Cami Redfern, who gave the parental defenders multiple headaches with her cross-over moves matched Micayla Flores with 12 points. Casey Scheuer finished with 9 points, while Emily Mason went to the Mason jar twice for 4 points. Katie Cloud matched her with 4 points as well. Taylor Thames and Adrianna Weber added a bucket apiece. Though Amy Lattari and Kelly Grady did not score, they made their presence felt on defense as well.
GAME 2: UHS INDIANS VS URA SUPERNOVAS
PRETTY IN PINK – PRACTICE MAKES PERFECT AS INDIANS MANHANDLE URA ALL-STARS
UHS Indians 70, URA Supernovas 42
In a game that marked recreational basketball versus marksmanship and fundamentals, the team that has practiced and played together over the past year or so would be the hands-on favorite to win. So not even President Ladd's psychological games (pink shirts, Facebook posts) could rattle the Hoopsters of U-Ville as they easily outpaced, outscored and out-defended the URA squad.
It was announced pregame that the Big Fish Alex Trout was not able to overcome a fractured finger to be able to play, so though there was not supposed to be a Trace of a McGinnis on the court, Head Coach Trace McGinnis became Player-Coach Trace McGinnis while the Big Fish took over his spot on the bench next to assistant coach Brandon Denning. It wouldn't have mattered if Larry Brown were coaching the URA team, because at the end of one quarter they were down 23-3 and at the half it was 35-18 with most of the UHS starters on the bench resting.
It was 48-26 after 3 quarters and UHS outscored URA 22-16 in the 4th quarter. For the URA squad, the shooting percentage was miserable, but there were a few bright spots, with Eric "Superman" Willis leading the pack with 10 points and providing a highlight reel play when Tom "Coast to Coast" Pancoast went in for a dunk and Willis said, "Not in MY house." He blocked the dunk attempt and also Pancoast and was charged with a foul, but he prevented the dunk and that was enough to provoke a bunch of oohs and aahs from the URA side.
Kyle Holcomb finished with 8 points, displaying the same silky smooth shooting that he has had four the past 4 years while the underutilized but always dangerous B Ladd II hit for two treys. King Kong Koehler had the tough assignment of guarding the Indians' bigs – Doug Ott and Beck Tuvesson – but managed to finish with two blocks and two points. Ryan Hissey had 3 points and the Big Rig Zach Rigby had 4 points. Tim Christopher went 1 of 2 from the stripe. Speedy point guard Jacob Block, a late insert into the game, made his presence felt with 4 steals and a handful of assists. For the Indians, it was not a matter of if, but when they would have this one under control and it took all of one quarter to show it.
Every player on the team's roster found cotton, with Brandon Rusinque, Doug Ott and Brad Pechin tied for the team lead with 12 points apiece. Tom Pancoast ran for 100 yards, passed for 200 yards and oh, also scored 9 points while Garrett notched 8 on the Geiger counter while leaving a trail of nuclear waste in his wake. Rounding out the U-Ville scoring were Patch Johnson with 6 pts, Kyle Fries and Beck Tuvesson with 4 pts apiece, and Dan McClaskey with 3 pts.
Special thanks to the game's officials, PIAA referees Harry Edwards and Ralph Holzer; scoreboard operator URA President Brian Ladd, scorer Ben Horine, spotter Hayley Flores and pubic address announcer Mike McGann, owner of The Unionville Times, our community's online newspaper.
All in all, the night was a stunning success and it was heartwarming to see how the community reached out and embraced the Lewis family in their time of sorrow and loss. The players' conduct on and off the court was exemplary and hopefully this event keeps the eternal flame of the volunteer spirit burning brightly in our community. Somewhere, Coach Alonzo Lewis is smiling while conducting another lesson to a heavenly group of hoopsters.