Indians 66-shot attack lifts Unionville to 5-0 win over Lansdale Catholic
By Dave Conard Sports Editor, UnionvilleTimes.com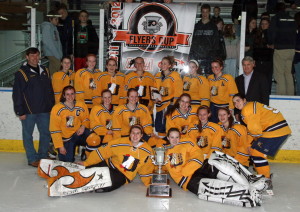 ASTON—Despite the best efforts of Crusaders net minder Jessica Mares, who made 61 saves in a first star performance in Monday night's 2012 Flyers Cup final, Unionville posted a 5-0 victory to win championship for the third consecutive year.
The Indians, who dominated from opening face off to the final horn, got two goals from Jordan Hagerty along with single tallies from Morgan Wilm, Emilie Brady and Izzy McDonough to fuel the Three-peat that is a rarity in any sport.
In it's 33rd year, the Flyers Cup tournament, pits the best teams in the tri state are against each other in a single elimination format with teams from Pennsylvania, Delaware and New Jersey competing for the trophy named after the area's beloved Philadelphia Flyers.
What has been an incredible three-year run culminated Monday night with the Indians hoisting the Flyer Cup trophy for the third consecutive season, officially laying claim to a word that get tossed around but is seldom deserved.
Dynasty, yes it is official, Unionville (17-2-2) with a combined record of 48-5-4 over the past three seasons has earned the title of Dynasty, and with the core of talent at coach Henjes' disposal, they may have to expand the trophy case in the new gym as four or five championships in a row may not be out of the question.
"This has been quite a run," said Unionville head coach Fred Henjes. "Three years ago when we won our first cup, we had 11 freshmen on the team, they are now juniors so I am already looking forwards to next season and what we can do as a team. These girls have worked so hard and just love playing together, I think tonight was probably the best game I have seen them play."
From the drop off the puck, Unionville unleashed a barrage of vulcanized rubber in the direction of Mares and the L-C net, swarming the senior goal tender, who posted a 13-6-0 record, while recording  seven shut outs and a 1.65GAA and .919 save percentage in an outstanding  season.
"Is what we have looked forward to all year," said Indians senior net minder Jenna Lisicky (1.10 GAA .857 save %) "We didn't expect to lose in our league playoffs and we had a slip up against Downingtown East, so we came into tonight very focused and knew what we had to do, it has been an incredible year with the Winter Classic and now winning the Flyers Cup for the third time, wow."
Unionville junior Annabeth Donovan, who claimed the Bobby Clarke Award as the tournament MVP which was presented by two time Stanley Cup champion Bob Kelly, posted two assists against L-C, after a five-point night including a hat trick in the previous round against Avon Grove, led the assault on the Crusaders net by cycling the puck to the relentless pressure of Lyndsey Wenzel, Hagerty and Lilly Henjes (2 assists).
"This is amazing," said Donovan, who claimed MVP honors for the third time. "To win an award like this is crazy, we are such a close team, I am sharing this with every one of my teammates, we really tried to stay focused tonight and knew that it would be a tough game, but were confident."
"We knew what we needed to do tonight," said sophomore Jordan Hagerty, who claimed second star honors in the final. "We put pressure on our selves to move the puck and work toward the net, she (Mares) did a great job but we were able to make some plays in front of her. This is so exciting, just to play in the "Flyers Cup" but to win it again is awesome, we have become so close as a team and that is the biggest edged we have on other teams."
This will arguably not be the final chapter in the Indians ice hockey saga , as Unionville has thrown down the gauntlet to the other teams in the area and have the pieces on place to make another run at glory, led by the league's number one goal tender freshman Lillian Jones (4-0-0, 0.24 GAA, .970 save %).
"As a coach I could be happier for these girls, this is what you dream of," added Henjes.
"We have a new wave of very good players coming up through, I don't see any reason why we can't keep this going for a long time to come."
(2) Lansdale Catholic             0            0            0            -0
(1) Unionville                1            3            1            -5
Shots on goal
Lansdale Catholic            2            3            2            -7
Unionville                     23            24            19            -66
PENALTIES
Period 1
1_Unionville Girls – Lyndsey Wenzel – (Interference), 2 min, 3:50
Period 2
1_Unionville Girls – Kate Steller – (Interference), 2 min, 11:23
Period 3
1_Unionville Girls – Morgan Wilm – (Body Checking), 2 min, 5:38
1_Unionville Girls – Morgan Wilm – (Tripping), 2 min, 10:35
1_Unionville Girls – Lillian Henjes – (Hooking), 2 min, 12:53