By Daniel Block, Special to UnionvilleTimes.com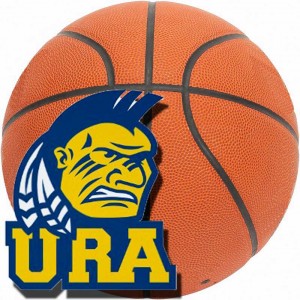 EAST MARLBOROUGH — Cierra Breeding's last minute shot proved to be enough to allow her Notre Dame Fighting Irish to hold off the Tennessee Vols, 30-27 to win the Unionville Recreation Association Girls' Senior League Championship, Monday night.
The championship game got underway at 6:30 PM and then the second referee entered the building. But that was the only unusual item for what became the trademark beginnings for both these teams. Notre Dame came out running and gunning while Tennessee couldn't buy a bucket, not that they were shooting that much anyway.
Instead, it was a track meet and the Lady Vols had more turnovers than points. But the URA faithful had to know that this one was going to be a real fight, not another Notre Dame exercise in demolition of another opponent. At the end of the 1 st quarter the Irish lead, 16-4; at the half they were up 22-9 and things were looking bleak for Coach K in his swan song final URA game. But then, as has happened so often this season, it was time for Covert-Ops, with the dynamic sister duo netting 14 of their 16 points in the second half while Caroline Kaiser began racking up rebounds and erasing shots.
The atmosphere was tense, the fans were loud, hearts were racing and Coach Carlow finally may have popped a vocal cord. Tennessee outscored the Irish 12-4 in the 3rd quarter and 6-4 in the 4th and even had tied the game at 27. But then, the URA phenomenon known as thoroughBreeding restored the balance in favor of the Irish, though this time it was Cierra Breeding who lofted a sweet arcing shot that proved to be the game winner. The Notre Dame bench erupted in premature celebration, as the final 40 seconds were tension filled. Caroline Kaiser launched a desperation three-ball from half court with time running out after Kacie Breeding went 1 for 2 from the stripe and Kaiser's shot actually came close to sending this barn burner into OT, but then when it dropped to the hardwood harmlessly after missing cotton, it was all over.
This game will go down as the most thrilling senior girls league championship game in recent history. For the Irish, the thoroughly bred wonders hit for 18 of the team's 30 points and what was most remarkable is that Cierra Breeding was not even slated to play in the 4th quarter. Talk about the luck of the Irish. When Salem Carlow, who had a monster game (4 points, 10 rebounds, 2 steals), fouled out, Coach Carlow looked down the bench and without a moment's hesitation put the rookie into a pressure cooker of a situation. She rewarded him and made her place in the record books with an 8 point performance, which matches her season high, with 6 of those points coming in the second half.
Sister Kacie scored 8 points in the 1st quarter, mainly on fast breaks, but could only manage 2 for 6 shooting in the 4th quarter to finish with 10 points to go along with 2 assists and 3 steals. She had to endure double teaming and trapping for much of the second half and the twin towers of Ellie Covert and Caroline Kaiser made life in the paint miserable for the mercurial guard. Ava Carlow sank 2 sweet jumpers to finish with 4 points while playing a high intensity pressure defense that often forced the Tennessee ball handlers into the corner. Sophie Detweiler and Frankie Manriquez each added a bucket.
For the Lady Vols, Ellie Covert scored a game high 14 points and had 7 rebounds while Sarah Covert, who had the tough assignment of defending the point while handling the ball against the ball-hawking defense of Notre Dame had a pretty big game herself. She had just 2 points but she grabbed 7 rebounds, dished out a game high 5 assists, blocked a shot and had 4 steals. Caroline "The Eraser" Kaiser had 8 points, blocked 2 shots and altered several others and pulled down 12 rebounds. She also had a steal and an assist. Lauren Corrigan showed some nifty baseline moves and finished with 3 points while Kristen Andes finished the game with 5 rebounds. Annika Twombly volunteered as well with one steal.
Overall, it was a remarkable end to an exciting season. The game was also not without a different "Covert-Ops." Intelligence gathered through league sources hours before the game revealed that there was going to be a large showing from fans coming early for the later senior boys division championship. Attempts to thwart it were put in place but URA unveiled its new "security force," with Special Agent Coach Tom Burke manning the door after he volunteered his services for the game after his Maryland team fell a few points shy of getting the invitation to meet the Lady Vols. Of note is that the teen spectator's on Agent Burke's end of the gym were silent then entire time. Special thanks to Special Agent Burke for his timely contribution to the league.
And now, it is time to say, good night. Have a great off season.