By Daniel Block, Special to UnionvilleTimes.com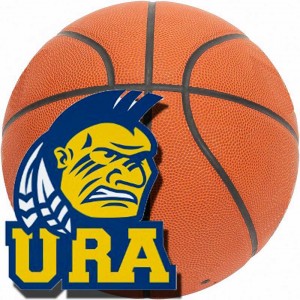 EAST MARLBOROUGH — After an exciting regular season, it's probably no shock that the Unionville Recreation Girls Senior basketball semi-final games were both nail biters, setting up a thrilling championship game Monday night.
ROUND TWO, SENIOR GIRLS DIVISION SINGLE ELIMINATION PLAYOFFS
Game 1: BLACKENED GREEN BUT STILL HOLDING A FOUR LEAF CLOVER
Notre Dame Fighting Irish 31, UNC Tarheels 24
And then there were two. Game 1 tonight had the makings of yet another yawner and the Irish looked fresh and clean after three quarters with little likelihood of breaking out the Irish Spring soap later. After one quarter they lead the gummed up Tarheels 14-3 and at the half, 23-5. It's a wonder the stands didn't begin emptying early on the UNC side, but oh those Carolina faithful. They had visions in blue, as in Carolina blue skies ahead and promptly held the track team that is Notre Dame to 4 points in the 3rd quarter. And then, in their own version of The Fast and the Furious, they opened the floodgates and began to pave and plow their way back into the game, outscoring Notre Dame 15-4 in the fourth quarter with a spellbinding 10-0 run with about 70 seconds remaining.
Coach Scheuer employed a trapping full court defense that lead to 8 Carolina points off turnovers and saw Coach Carlow burn his final two time-outs and a few more vocal cords as he implored, cajoled, beseeched and willed his team to hang on. And they did, but it is going to take at least the weekend to clean the tar from their collective heels. So first half, 23-5,Notre Dame; second half, 19-8, UNC. For the Irish, it was another episode of thoroughBreeding, with all-world Kacie Breeding hitting a playoff high 21 points, including a perfect 3-3 from the line, while sister Cierra doubled her output from the last game with 4 points while playing lock down defense.. Ava Carlow and Alana Greeley again added their two-cents worth as did Sophie Detweiler in the winning effort as well. For the Scheuer Shots of Carolina, they were again lead by Gabby Samulewicz, who scored 12 points after finally getting her groove on in the second half. Hannah Bass also overcame a rough start to finish the night with 6 points. Natalie Duerr added a bucket as did Kathleen Lapszcynski, who sparked the late game run with a series of crucial steals and solid defense. Emma Dougherty, while only scoring 2 points, was handed the ball at the point midway through the game and stabilized the UNC ball movement and showed a newly found fearlessness of entering into the paint. Tough loss for the Tarheels while the Notre Dame juggernaut takes its high wire act into Monday night's championship game.
Game 2: TERPS BEGIN GAME IN HIGH GEAR, END GAME TRAPPED AT HALF COURT
Tennessee Lady Volunteers 23, Maryland Terrapins 20
In what has become this season's Tennessee trademark, the Lady Vols were sleepwalking through the first half, unable to buy a basket aside from the 6 points they put up to keep it semi-interesting. At the half the Terps lead, 14-6 and then they paced the Vols bucket for bucket in the third to enter the 4th quarter up 20-12. And it didn't look good for the Kaiser Krew. But then, if you've watched this Tennessee squad, hasn't that been their Covert Operation all season long? Conserve, defend, conserve and then grind down the opponent in the 4th quarter.  And this time, Covert-Ops had additional weapons at their disposal. Caroline "The Eraser" Kaiser added to her league lead in blocked shots with 3 in this contest while hauling in 7 rebounds to go along with 6 points. Ellie Covert also erased a shot, grabbed 8 rebounds and lead the team in scoring with 7 points while Sarah Covert blocked 2 shots, had 2 steals and 4 points while playing her best game yet at the point. But that wasn't all this time for Coach K, as Lauren Corrigan added a bucket and handled the point position when Sarah Covert rested while Natalie Hoffman and Annika Twombly each added a bucket as well. Twombly also came up with a critical steal during a breakneck rush the Lady Vols made in the latter half of the 4th quarter to overtake the Terps and then take the lead for good. Kristen Andes, perhaps the Vols' most improved player this year, grabbed 4 rebounds and dished out an assist in what was easily her best game. In the last two minutes Tennessee froze the ball and even with Coach Burke screaming for his team to foul in the last 40 seconds, the Vols still managed to play keep away with crisp passing that was NBA-worthy.
For the Terps, who again were undermanned in a playoff game after their lone bench player left the court with an undisclosed ailment, it was a heartbreaking loss. They had overcome the adversity of a mid-season 4 game losing streak mainly due to the steady influence of the unflappable Coach Burke, who calmly lead his team back from that mid-season desert to claim a playoff victory in the quarterfinals and almost nab another against the higher seeded Lady Vols. Jess Hussey had 6 points and 10 rebounds but was shut out in the 4th quarter. Sophie "Supersonic" Schenk lead the Terps with 8 points and is an early favorite as a first round pick in next season's draft. Caroline Granger and Taryn Burke also made strong cases for being upper round picks next season. Each scored 2 points but left their mark on the game more with their overall play and up-tempo style. And for the second game in a row Alexa Hussey also tasted cotton with a lone bucket in the 1st quarter.

Monday's Championship Game:
Patton Middle School:
6:30 PM: Notre Dame Fighting Irish (1) vs Tennessee Lady Vols (2)
Game Preview:
The Championship Game marks the second time these two teams will meet, with the first contest coming in week two and ending with Notre Dame the victor by only one point, 18-17. In that game Caroline Kaiser had 6 points,12 rebounds, blocked 5 shots and altered at least 10 others. Lauren Corrigan had 6 points and Ellie Covert did not play in that game. For the Irish, who were missing Kacie Breeding, it was Cierra Breeding (8 points) and Ava Carlow (6 points) who provided most of the scoring punch.
The game promises to be an interesting contrast in styles. Both teams play excellent defense, with the nod to Notre Dame for its perimeter defense and to Tennessee for its interior defense and shot blocking. Respectively, this should spell trouble for Tennessee's shooters and that usually leads to turnovers. And for Notre Dame, it is going to be very difficult to penetrate into the paint which means Coach Carlow is going to have to find other ways to get the shots for Kacie Breeding. Tennessee will need an even stronger offensive game from Caroline Kaiser and if the Vols's twin towers (Kaiser & E. Covert are in rhythm, it's going to be along night for Notre Dame and Coach Carlow is going to need medication for his vocal cords.
On the other hand, if Tennessee ends up in a track meet with the quicker Irish, it is going to spell trouble with a capital T because that means someone is going to have to catch Kacie Breeding before she gets anywhere near the half court line. Once she is at the top of the key she is deadly, as she can go left, right, down the center or even in Iverson-like fashion hit the odd angle runner from the side. Coaching styles are also wildly different, with Coach Carlow ever vocal, calling out plays, warnings, shots and passes while Coach K prefers to settle his team in the pregame warm-ups, discuss game plans then, and use time-outs judiciously throughout the game. The one area where both coaches are similar is that both preach defense, defense, defense. Expect a lower scoring game and it would not be surprising if this one ends up in overtime or is decided in the final minute or two. Don't miss this exciting end to another URA Girls Senior League season.