Charity event features URA All-Stars vs. Unionville High boys, UHS girls seniors/junior vs. underclassmen; to raise money for family of Al Lewis
By Brian Ladd, Special to UnionvilleTimes.com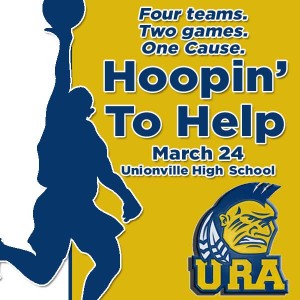 While the Unionville Recreation Association is purely known as URA, the legal name of the organization is the Unionville Community Recreation Association.  The reason "Community" is extremely important is because URA doesn't just provide recreational programs to the children of our community, URA strives to support our community by giving back or providing support when one of our own needs it.
URA is proud to support a valued member of our community, the Lewis Family, who recently lost a wonderful husband and father, Alonzo (Al) Lewis.  To read more about Al Lewis, please see below.
We invite you, the community, to join us in the cause with numerous ways to help all capped off by an event that has been talked about for years but has never come to fruition!  This event may just be a once in a lifetime opportunity to see the Best of the Best in Unionville High School Basketball square off against each other for the FIRST TIME EVER!
How can you help?
Attend the Hoopin' to Help Event – Click here for the event flyer.  Ticket sales at the door only unless you make a special donation (see below).
Make a donation – Click here to immediately donate online via credit/debit card or eCheck.  DONATIONS ACCEPTED IN ANY AMOUNT!  NOTE:  Individual donations in excess of $100 will receive (4) courtside seats to the Hoopin' to Help event.  The larger your donation, the closer you sit to Center Court!
Donate Prizes – Own a business?  Frequent Local Establishments?  We would love to have prizes donated to be used for raffles as well as contest awards.  Gift cards, etc. make great raffle prizes!
Advertise – Want to be the Title Sponsor and have your name in every piece of marketing we blitz out as well as receive a nice halftime introduction?  Immediately contact Brian Ladd.
Spread the Word – Forward this message to anyone that can help.
ALL PROCEEDS BENEFIT THE ALISON C. LEWIS SCHOLARSHIP FUND
About Al Lewis and the Lewis Family
Alison Lewis is a Sophomore at UHS and a standout on the Varsity Girls Basketball team.  Her Father Al, who was a fixture at basketball games in the area, especially Unionville High School games, was struck and killed by a car while going to a high school basketball game in Philadelphia in late February.
Al was a hardwood legend himself, a star basketball player at LaSalle University, a key member of the Explorers' 1954-55 squad that lost to Bill Russell's San Francisco State in the NCAA finals. Lewis went on to play for the Hazleton Hawks in the old Eastern League, the top minor professional basketball league – at a time when there were few NBA teams. The EL, which eventually became the Continental Basketball Association, was famous for both its high level of play and rugged scheduling and travel. Many EL/CBA players and coaches went onto stardom in the NBA.
After his playing career, he coached and taught at Chester High School.  During his 10 years at Chester, Lewis had a 237-67 record, and his teams won six league championships and two state titles. He was the third-winningest coach in the Clippers' history. Lewis stepped down in 1995 to become head coach at Cheyney University.  Off court, he was remembered as a demanding history and English teacher, who insisted his players and students get a real education. He also coached at Cheney State.