By Daniel Block, Special to UnionvilleTimes.com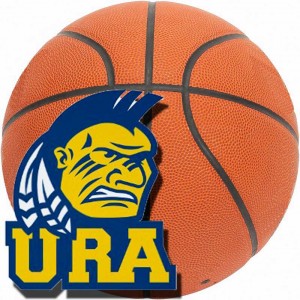 POCOPSON — And then there were four.
Just four teams remain as the Unionville Recreation Association Girls' Senior league continued its single-elimination playoffs Tuesday night at Pocopson Elementary School, with Friday night semi-final and Monday night's championship game on the near horizon, this season is coming to an exciting finish.
ROUND ONE, SENIOR GIRLS DIVISION SINGLE ELIMINATION PLAYOFFS, NIGHT TWO

Game 1: THINGS LOOKING GREEN FOR IRISH WITH ST. PATTY'S DAY APPROACHING  
Notre Dame Fighting Irish 25, Miami Hurricanes 10
So who said you can't be in two places at the same time? Modern day physics meets old school imagination so that this report can reach the URA faithful so late in the season. Game 1 tonight had the makings of another sleeper, with the Irish only leading after 1 quarter 7-2 and 10-3 at the half. On the Miami bench it was not storm driven debris that went flying tonight but instead the turbines from the storm generator herself, Jet Lattari, who exited the game early after badly jamming her finger. She finished the night with only 2 points and there must have been a collective sigh from the clover fields on the other bench as they kicked it up a notch in the second half.
The 'Canes were not without other weapons, though, as Erin "Trey" Garvey contributed 4 points with an NBA-worthy bomb from beyond the arc as well as 1 for 2 shooting from the stripe and 2 steals. Elodie Clowes added a bucket and 2 rebounds and Colette "The Collector" Savant had a bucket and 7 rebounds for Coach Kenz's squad. For the Irish, it was a rerun of what has come to be known as thoroughBreeding, with Über-guard Kacie Breeding stealing the Hurricanes' thunder on her way to scoring a game high 15 points and sister Cierra adding a bucket as well. Ava Carlow added her two-cents worth as did Alana Greeley, who was like a swarm of angry bees on the defensive end as well. Sophie Detweiler chipped in 4 points in the winning effort as well. Notre Dame plays the UNC Tarheels in the semifinals on Friday night at Patton.
Game 2: HUSKIES LEAVE EARLY TO HEAD FOR THE IDITAROD, GET STUCK IN TAR SANDS
UNC Tarheels 30, U Conn Huskies 17
Coach Scheuer has been here before and was sure to have told his team of his experience last year winning it all with a short handed crew. So the unflappable coach gathered his troops after they could only muster a 6-1 lead after a quarter and simply spelled it out, but the Huskies found their inner selves long enough to put a scare in the Scheuer Shots, closing the gap to 14-11 while breathing down UNC's collective necks like a pack of rabid wolves. They kept it close after 3 quarter, conceding only another 3 points to the suddenly stuck Tarheels before Coach Scheuer cast his rod and caught a bass. Hannah Bass showed what leadership is all about and hit for 4 of her 6 points in the 3rd quarter before she handed the reins back to her tag team partner, Gabby Samulewicz, who lead all scorers tonight in both games with 16 points. She hit 8 in the crucial 4th quarter as UNC left U Conn in its tarpit howling for a reprieve.
The Nat Squad hit a double deuce again while the Little Nat (Scheuer) was a demon at the point guard spot and on defense. Kathleen Lapsczynski also added a bucket in the winning cause. For the Huskies, it's time to regroup and Coach Schrof had a red eye flight to begin his extensive off season scouting for next season. For his crew, Jillian "Slash" Brislin continued to turn heads and get coaches' and scouts' attention with her 8 point effort tonight. The Tarheels managed to hold Molly Hutter scoreless for the first time, but she decided to repay the favor by erasing two UNC shots, which matched the number of blocked shots from center Riley Schrof, who also added 5 points and 6 rebounds. Grace Schrof, still hobbled a bit by plantar fasciitis, still managed to hit for 4 points. Amanda Yi matched Natalie Scheuer's demonic intensity at the point guard position for U Conn. UNC meets Notre Dame on Friday night.
Friday's Games:
PattonMiddle School:
7 PM: Notre Dame Fighting Irish vs UNC Tarheels
8 PM: Tennessee Lady Vols vs Maryland Terrapins
CHAMPIONSHIP GAME MONDAY NIGHT @ PATTON MIDDLE SCHOOL, 7 PM.