By Daniel Block, Special to UnionvilleTimes.com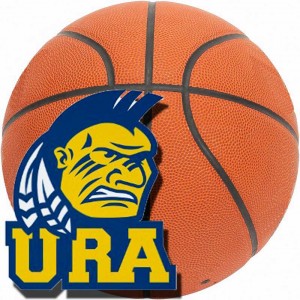 POCOPSON — The Unionville Recreation Association's Girl's Senior Division – Grades 6-9, which plays weekly at Pocopson Elementary School, completed it's regular season and seems primed for an exiciting playoff run. Here's a closer look at the final week of the regular season:

Game 1: BEARS RIDE OUT THE STORM AND CLAW THEIR WAY TO VICTORY
**GAME OF THE WEEK**
Baylor Lady Bears 20, Miami Hurricanes 17
It was a fitting finish to the season for the two most improved teams in the league. In a very well coached game with teams that executed their respective game plans, this one turned into a nail biter. Early on, the Lady Bears seemed content to hit the snooze button, preferring a few more minutes of hibernation, but with an early spring rolling into the area storms will be expected and at the end of the quarter Coach Kenz's green machine had jumped out to a 5-2 lead, largely riding the winds stirred up by the turbos of Jet Lattari, who lead the Miami squad with 12 points while producing 4 steals on the defensive end. Ivy Yen hit 1 of 2 from the stripe and Alexa Conroy continued her strong showing with another bucket and a series of athletic plays on defense.
But Chief Bear Sienna McGinnis, with a bump up in the standings at stake, was not going to let her team be swept away by high winds and rain. Fortunately for her she had already booked her team on the Coast-to-Coast flight home, as Sam Pancoast entered the game in the second quarter and paced the Bears with her team high 6 points to go along with 7 rebounds. Emerging forward Maddie Knightly had four points as did Dr. Z and Maggie "The One to Have on the Line When You're Having More Than One Shot" Schaefer (my generation will catch this one), who finished the regular season as the most accurate free throw shooter, went a perfect 4 for 4 from the line while hauling down 5 rebounds. And the Elettrafying One, Elettra McGinnis hit another bucket and handled the bulk of the ballhandling for Coach Sister today. The game also marked the early return of Fearless Franny "Fingers" DiPlacido, whose remarkable healing powers had her back a week earlier than expected from a broken finger. Baylor, (4-5), will face the Maryland Terps (4-5) in the first round after claiming 5th place today, a mere three points in the differential behind Maryland. Miami (1-8) will face the undefeated Notre Dame squad.
Game 2: MARYLAND TORPID AFTER STEPPING IN TAR
UNC Tarheels 36, Maryland Terrapins 16
Coach Sheuer gathered his troops before the game and told them they were going to lock up third place today and that was all they needed as they paved the way to a date with the Huskies (4-5) in the first round. Almost everyone scored for the Scheuer Shots today and their defense was indeed as sticky as tar. Their well heeled game plan had the Turtles doing the tar step, but the constant onslaught from the ladies in blue proved too much as UNC steamrolled its way through the game. Their season scoring leader Gabby Samulewicz continued her scoring ways with 10 points, but it seemed whenever she was fishing for more she caught a Bass, as Hannah Bass returned from her cotton exile to light up the net with 8 points while playing her usual efficient game.
Kathleen Lapszynski dropped in 6 points of her own and the Nat Squad (Duerr and Scheuer, Inc.) hit 4 points each. Emma Dougherty hit for a bucket and Payton Placed her one shot in for a piece of the Jaenisch as well, scoring her lone bucket in the second quarter. The Terps really never had a chance, as they were both outgunned and short their top force, Jess Hussey, who was absent along with sister Alexa Hussey. In their absence, Sophie Schenk nailed home 8 points and Taryn Burke, who has been leaving it all on the floor every game, had 6 points, another athletic blocked shot, 6 rebounds and her nose nearly broken with a stray ball before fouling out late in the game. Lauren Leeson also scored a basket for the Terps, who will face a red hot Baylor (4-5) squad in the first round. Maryland finished fourth in the standings.
Game 3: UCONN SEEING GREEN CLOVERS AFTER DUKING IT OUT WITH NOTRE DAME
Notre Dame Fighting Irish 30, U Conn Huskies 17
There are simply no superlatives remaining to describe the dominance Coach Carlow's team has shown all season long, whether winning by a wide margin or hanging tough to win at the buzzer. Notre Dame becomes the first team in the girls' division in recent history to finish a season undefeated. Only the legendary Coach K came close with a one loss season in the past. Irish eyes were smiling indeed as Notre Dame came out running and gunning, not leaving anything to luck. And today they showed their good breeding as well, as the mercurial Kacie Breeding nailed 17 points to lead all scorers in all games today. Sister Cierra said "me too," dropping 7 through the cotton, including a pretty trey from beyond the arc. Ava Carlow, Sophie Detweiler and Frankie Manriquez each had a basket. Notre Dame finishes the season at 9-0 and will face the Mean Green Machine from Miami (1-8) in the first round.
U Conn could not get untracked today and has been in a tailspin, having lost 4 of their last 5 to finish 4-5. They dropped to 6th place in the process, though history suggests that Coach Schrof will get back to the Life of Riley come playoff time and the Huskies will have both their bark and their bite. Jillian "Slash" Brislin continued her offensive onslaught, knifing her way to the net for 9 points and showing a quick inside move to get through the paint. Molly Hutter had 4 points and Riley Schrof 2 to go along with 2 blocked shots and 9 rebounds. U Conn will meet UNC (5-4) in the first round.
Game 4: PLENTY OF VOLUNTEERS TO RAZE THE FARM
Tennessee Lady Vols 31, Texas A & M Aggies 18
Coach K used this game as a playoff preview, as his Lady Vols finished the season in second place @ 7-2 and will meet this same Aggie squad in the first round of the playoffs. Texas A&M finishes 2-7. The game began with more of the ladies in pink volunteering for scoring duty than those in yellow. And in fact, the Tennessee squad looked a little jaundiced at the end of the first quarter, as they indeed got yellow around the net, perhaps allergic to cotton. And instead of their dreams of cotton candy, they got a pink nightmare, as the Aggies rode the E-Train and filled the Mason jar en route to a 6-0 first quarter lead heading into the second quarter. Elizabeth "E-Train" Koehler had another strong game and finished with 8 points while Olivia Mason had 6.
Teryn Thompson also had a basket for the Aggies. Tennessee flushed the bile from their system and erupted for 14 second quarter points to take a 2 point lead into the half, but by the end of three quarters they had only built on that lead by one point and to begin the 4th quarter with a score of 19-18, it was anybody's game. And that's when Lauren Corrigan decided she'd had enough. Perhaps she wanted a short post game Kaiser Review, or maybe it was something else, but one thing is certain – SHE was something else as she deposited 6 of her 8 points in a smoking 4th quarter run that saw the Tennesse crew outgun the Aggies 12-2. She lead all Volunteers with her 8 points but had plenty of help today. Covert Ops took their usual pound or three of flesh, with Ellie hitting for 5 points to go along with 5 rebounds and a blocked shot while Sister Sarah dropped in 4 points and had the bulk of the ballhandling duties as well. Caroline "The Eraser" Kaiser erased 3 Aggie shots, pulled in 9 rebounds and had 6 points. Kristen climbed the Andes Mountains to score today and she was not disappointed. Each week it seems Coach K has a hidden weapon on his squad and today it was Kristen Andes, who hit for a season high 4 points. Annika Twombly graced the net with her presence as well, lofting two arcing shots for her 4 points.