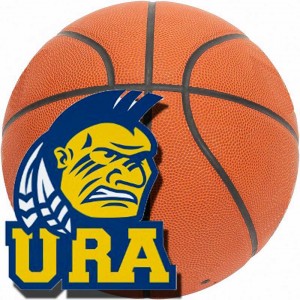 POCOPSON — The season is coming down to the wire in the Unionville Recreation Association's Girl's Senior Division – Grades 6-9, which plays weekly at Pocopson Elementary School. Here's a look at last Saturday's action, as always, courtesy of Dan Block:
Game 1: BEARS STUMBLE IN A FIELD OF GREEN CLOVER
Notre Dame Fighting Irish 22, Baylor Lady Bears 20
For the second week in a row Coach Carlow was blessing his lucky stars and vowed to continue eating Lucky Charms for breakfast as his Fighting Irish continue their march through this magical season onward to March Madness. Today, his squad was lucky indeed to survive another bear attack, as the Baylor Lady Bears continue to play with a renewed energy that seemed to come alive with the addition of Dr Z. Olivia Zubillaga made her presence felt not so much on the offensive end (2 points), but on defense (11 rebounds, 3 blocked shots), where her long reach and towering presence continues to alter the shots of everyone who encounters her prowling the paint, including leprechauns.
Kacie Breeding lead the charge for Notre Dame with 11 points but was harried into early shots and missed shots whenever the big Z was on the hardwood. Luck struck in favor of the Irish when Dr. Z fouled out in the fourth quarter. She had plenty of help, though, as Sam Pancoast continues her coast to coast tour, leading the ursine über-jocks with 9 points and 9 rebounds. Elettra McGinnis showed why she deserves more playing time with another stellar performance handling the ball and a developing fearlessness to foray into the paint. And her timing couldn't be better, as it was learned after the game that Fearless Franny DiPlacido will miss at least 2 weeks with a broken finger, though she added a bucket prior to the injury. McGinnis scored 4 points, Meghan Berry went 1-2 from the line and Maggie Shafer, who was strong on the defensive glass with 8 rebounds, added a bucket. For the Irish, Ava Carlow, Salem Carlow and Sophie Detweiler all added two points and Morgan "The Mad Bomber is Back" DeAugustine scored 5, dialing up long distance once with a bomb of a trey that brought back memories of her early career when she played for the commissioners before they retired to take full time league administrative positions.
Game 2: VOLS DEFENSE PAVES THE ROAD WITH TAR
Tennessee Lady Vols 22, UNC Tarheels 16
UNC continues to struggle offensively as they seem to have hit a midseason wall, leaving Coach Scheuer struggling to find a solution. Today, his squad could not avoid another walk through the tarpits, leading to speculation that North Carolina will be the site of the next LaBrea Tarpit, full of basketball relics to be found by some future URA generation. One thing is certain – that tarpit will not cross the border into Tennessee. Today, Tennessee meant another well executed Coach K devised play and his squad volunteered for active duty today, with 5 of his 8 players scorching cotton. The Lady Vols welcomed the return of center Caroline Kaiser, who lead the Vols with 7 points, 8 rebounds and 2 blocked shots.
Covert ops added their share, with Ellie Covert scoring 5 points to go along with 7rebounds and a blocked shot, and sister Sarah adding 6 points and a half dozen assists. Natalie Hoffman scored 4 points and was plagued by foul trouble. Annika "The Assassin" Twombly was quieter today, perhaps the result of advanced scouting reports, because UNC blanketed her on defense, limiting her to 2 points. For the Tarheels, Hannah Bass had 2 points as did Emma Dougherty. Natalie Duerr scored 4 points, Gabby Samulewicz 7 points and Kathleen Lapszcynski went 1-2 from the line.
Game 3: TERPS SHOW THEY GOT GAME AND A WHOLE LOTTA HUSSEY
**GAME OF THE WEEK**
Maryland Terrapins 28 Miami Hurricanes 26,
The setting was right for a match between the tortoise and the hare, or in this case the Hussey and the Jet, and the storyline followed the book, but not without some twists. For starters, Jess Hussey resembled anything but a tortoise as she seemed to have her own jetpack on while cruising up and down the court, scoring almost at will to lead the Terps with 18 points and 12 rebounds. She also showed an improving game at the stripe, hitting cotton on 4 of 6 foul shots. Meanwhile, Jet Lattari seemed determined to single-handedly pull this one back from the snapping jaws of the turtles, scoring 12 of her 22 points in an explosive 4th quarter that also saw her steal the ball 5 times en route to a season ald league high 9 steals in this nail biter. The 4th quarter began with Maryland leading, 24-12. Erin Garvey hit for 4 points to round out the Miami scoring but Alexa Conroy, though she didn't slice the net with the ball, still had a break out game, contesting every loose ball, pulling down critical rebounds to give the 'Canes second and third chances, and playing stalwart defense, which left a few wondering how she was on the bench to begin the 4th quarter. Coach Harris must have been thinking the same thing, as she inserted Conroy back in at a break in the action later in the quarter. For the Terps, Carolyn "Ranger"Granger continued to show she is at home sweet home on the shooting range as long as she is hunting cotton nets. She added 4 points as did Taryn Burke, who once again also had a strong defensive showing while continuing to shoulder the bulk of the ball handling duties.
Game 4: WITH THE MASON JAR EMPTY, AGGIES FALL SHORT IN BID FOR TWO IN A ROW
U Conn Huskies 29, Texas A & M Aggies 18
Texas A&M was still feasting on the remains of their solid victory last week and were caught sleeping by a rabid pack of Huskies, who were still sore after last week's shellacking by the Lady Vols. U Conn was taking no prisoners today and as a result the Aggies, who were missing starting guard Olivia Mason, simply could find no solution for the Life of Riley, the senior Schrof on the court. The big center from Republic of Roundball was a bruising inside presence and one has to wonder if the whistles had been less silent and she hadn't had to shoot with Aggies hanging onto her arms whether her point total would have been higher than the 10 she scored. She did swat 4 shots into oblivion and pulled down 15 rebounds. It's a good thing that the junior Schrof on the court had the good Grace to pitch in with 9 points of her own. The tireless guard also harried the Aggies into numerous turnovers and came away with 5 steals today. Molly Hunter, Cara Freedman and Kathryn Bartkowski added a bucket apiece while Jillian Brislin knifed her way through the paint for 4 points.
LEAGUE NOTES
Today's game was brought to you by new corporate sponsor, Greyhound Bus Lines. Perhaps coincidentally, today marked the first time in recent history that in every game players seemed to want to take a bus to the basket. Whistles sounded for traveling violations routinely at least 10-15 times each game. LADIES, REMEMBER YOUR FUNDAMENTALS. The playoffs are just around the corner. Remember – no games schedule next weekend – Presidents' Weekend. Coaches, please remember to bring your ALREADY FILLED OUT SCORE SHEETS. Continued failure to do so will result in a meeting with league disciplinarian, Hannah Block. Coach Carlow can attest to the results of such a meeting. Also, girls MUST wear team jerseys. It does not take much to remember to have it ready and if it isn't, have the player wear it dirty, Nobody is going to care – it's basketball, not a fashion show.