FOCUS sponsors film, panel discussion following on whether achievement is trumping learning
By Mike McGann, Editor, UnionvilleTimes.com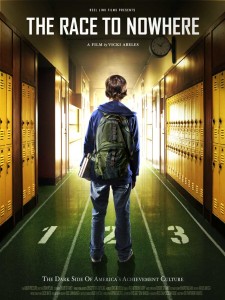 EAST MARLBOROUGH — How much is too much?
That's the central question asked in the award-winning documentary Race to Nowhere, which examines the culture of parents pushing their school-age children too hard, creating an educational environment where grades and scores have trumped learning — taking a toll on the students, teachers and families.
Maybe no where in the immediate area is this more relevant than in Unionville — and later this month, there will be a free screening — tickets are required — of the movie at Unionville Elementary Feb. 23, sponsored by Family Outreach Committee of the Unionville-Chadds Ford Schools (FOCUS). While a handful of tickets remain, response has been so strong that a second screening is now in the works. Following the screenings, there will be a discussion panel, and more discussion to follow at a public forum on the issue at the end of March.
Cara Malone, FOCUS' chairperson, spoke about what was the motivation for bringing the film to Unionville.
Her worry, she said, and that of a lot of professionals, is that as parents we're pushing kids too hard for results — and it could be sparking cheating and use of performance-enhancing medications, intended to treat attention deficit disorders.
"I think the kids are expressing a lot of stress," she said. "By bringing this film here, we wanted to promote discussion about the subject."
She said the worry is that with all of the focus on achievement, parents can lose sight of the fact that their children are still kids.
"Kids are losing their childhoods," she said. "We have them talking about college the second they get into high school."
Another problem: unrealistic expectations.
"We expect everybody to be in the top 10%," she said. "Obviously, that doesn't work. We have to have a better appreciation for who are kids are — not all of them have the same abilities. I think we all get caught up in it and maybe we need to pause and think a bit about it."
Following the 85-minute movie, there will be a panel discussion on the issues brought up in the movie. The panel is scheduled to include: Bethann Cinelli, Director of the Center for Healthy Schools from the West Chester University Department of Health Education; Carrie Dickmann, Unionville High School Gifted Teacher; Jeremy Dickson, Unionville High School Science Teacher and LINK Advisor;  Jim Fulginiti, Asst. Principal, C. F. Patton Middle School; Jennifer Fulton, School Social Worker, UCFSD; Perk Musacchio, Instructional Support Teacher, Unionville Elementary; and Dr. John Sanville, Superintendent, Unionville-Chadds Ford School District.
Light refreshments will be available following the event, with proceeds benefitting the Unionville High School AfterProm. For more information, contact Malone at tcmalone@comcast.net.
The film "Race to Nowhere" sheds light on the high stakes and high pressure culture that is a part of many children's lives at schools throughout the country.  In the words of the film maker, Vicki Abeles, it is a "call to mobilize families, educators, and policy makers to challenge current assumptions on how best to prepare the youth of America to become healthy, bright, contributing and leading citizens."  "Race to Nowhere" has become a national grassroots phenomenon.  Over 600,000 people have attended more than 2,000 screenings in all 50 states and 20 countries.