Unionville boy's win all but secures Ches-Mont title, as girl's fall just short 
By Dave Conard, Sports Editor UnionvilleTimes.com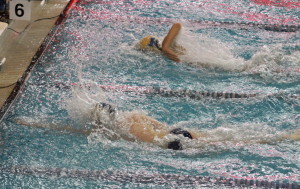 ASTON—When the Ches-Mont schedule was released last fall it's a good bet that both the Unionville and Rustin squads circled January 20th on their schedule as the meet that would determine this season's league champion.
Unionville, having claimed the boy's and girl's titles last season at the expense of the Golden Knights, came into tonight's action with a perfect league mark, equaling the performance by Rustin thus far this season as both took to the water at the West Chester YMCA's competition pool.
The hundreds in attendance were not disappointed as the two elite squads of the Ches-Mont league lived up to their billing, dueling until the final event.
Trailing by a single point as the gun sounded in the 400-yard free style relay, Rustin's first and third place finish were enough to allow the Golden Knight to snag the win by a count of 95-90.
On the boy's side of the docket, Matt Drohan was in a class by himself in the 500 yard freestyle and following the win in the 200 yard freestyle relay which the Indians claimed at the line, the Unionville boy's for all intents and purposes won their second consecutive championship with a 108-77 win.
Check back with UnionvilleTimes.com in the morning for a complete story, scoring recap and coaches and players comments.