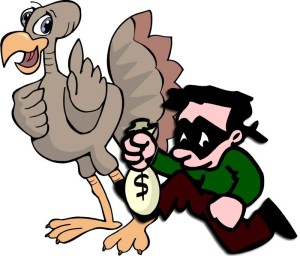 EAST MARLBOROUGH — It's enough to make you consider skipping the stuffing.
Township police are asking residents to keep an eye out on neighbor's homes — especially those who have gone "over the river, and through the woods to grandma's house" for Thanksgiving. It's been an issue in recent years and police hope that a bit of vigilance can stem the tide.
"During the Thanksgiving holiday the past several years, there have been numerous daytime/afternoon/evening residential burglaries where the perpetrators have kicked in front/back/side doors, or pried open a window not visible to the street and then proceeded to ransack the house stealing numerous items including jewelry, electronics, cash, firearms, and items made from precious metals," said township police Lt. Robert Clarke. "In several neighborhoods the burglars hit several homes in a row and even committed their crimes next door to a house full of people."
The best way to prevent such activity, Clarke said, is for those staying home for the Thanksgiving holiday to keep an eye out for unusual behavior — and if you're going to be away, make sure your neighbors know and ask them to keep an eye on things for you.
There are a couple of other things you can do, Clarke noted:
• Leave outside lights on or use photocells to turn outside lights on at dusk.
• Keep a vehicle parked outside in the driveway and have several inside lights on and leave a television / radio on to create the illusion you are home.
• If you have an alarm systems USE IT. If you do not have an alarm you can purchase inexpensive alarm company window stickers that indicate you do have an alarm. You can also call a local alarm company and request a few of their stickers. (It is free advertising for them).
"Criminals do not like to draw attention to themselves, they do not like light, noise, or to be seen," Clarke said. "If you see something suspicious call the police, make note of what you see day, date, and time, color of vehicle and description of vehicle or persons and license number. If you have any questions do not hesitate to contact me."