District remains among top in the state
By Mike McGann, Editor, UnionvilleTimes.com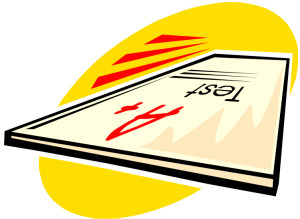 EAST MARLBOROUGH — It's can be a little hard to find room for growth when your head is already scraping the ceiling.
Once again, the Unionville-Chadds Ford School district posted exceptional standardized test scores — among the top in the state.
"I couldn't be prouder for our students," said Dr. John Sanville, the district's superintendent of schools.
And while the Unionville-Chadds Ford School District again fared very well in the Pennsylvania System of School Assessment tests (the PSSA's), with 93.3% of district students either proficient or advanced in math and 93.8% proficient or advanced in reading (down slightly from 2009-10 when district led the state with 94.2% rating a proficient or better), the specter of No Child Left Behind, the federal education program set to expire, would require Unionville to get both of those numbers to 100% by 2014.
That is, unless like most other states, Pennsylvania opts out of No Child Left Behind, and agrees to adopt rules regarding teachers and staff evaluations and the "common Core" standards. With school districts statewide struggling to meet the requirements for the current school year — for example, schools are supposed to have 72% of students proficient or advanced in math in the 10-11 test scores — it seems likely that the state will opt out.
"It is important to us," Sanville said of the results, regardless of whether the requirements will remain in place down the road. "Whether we like it not, these are the rules we play by."
However, since the current structure remains in place, said Assistant Superintendent Ken Batchelor, the test cores mean that again every school in the district easily meets the criteria for Adequate Yearly Progress. Although the scores across the board were significantly above average, again, the district did manage a handful of perfect scores: grades/subjects where 100% of students were either proficient or advanced.
Hillendale and Pocopson third graders managed that grade in math, with a district average of 97.5% (as compared to the state average of 83.3%). Unionville's fifth graders managed the 100% mark in writing, while the district averaged 95% — as compared to 67% statewide.
About the only concerning test score was 11th grade science, where just 65.7% of students were proficient or advanced — although as Batchelor pointed out, this is an issue state-wide, as just 40.8% of Pennsylvania students graded out as proficient or advanced.
Batchelor also noted that the district's SAT tests were again solid, with the average Unionville high school student scoring 1717 out of a possible 2,400, a drop from last year's average of 1731.
The advanced placement numbers improved again, though. 858 students were enrolled in AP courses, up 30 from the pervious year. The percentage of those taking the exams was up to 75.4%, with 89% getting a grade of "three" or better (up from 82% the previous year).