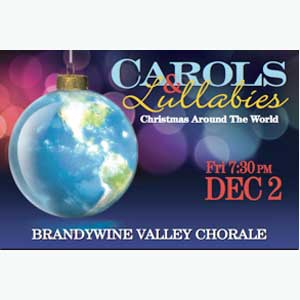 WEST CHESTER — In its fifth season, The Brandywine Valley Chorale (BVC) presents a holiday concert of Christmas music from around the globe, "Carols & Lullabies."
Led by Artistic Director Jason Throne, the BVC's Fifth Holiday Concert will be performed on Friday, December 2 at 7:30 p.m. at Westminster Presbyterian Church, 10 West Pleasant Grove Road, West Chester.
Highlighting the concert is American composer Conrad Susa's Carols & Lullabies: Christmas in the Southwest.  Susa's work of 11 Spanish traditional carols from Spain, Mexico and Puerto Rico is a Nativity celebration blending guitar, marimba and harp accompaniment. Lyrics are sung in Spanish, Catalán, and English.
Seasonal music from other countries includes Rachmaninov's Bogoroditse, one of the most beautiful and popular early 20th century a cappella choral works; Alleluyah Sasa, a jubilant work inspired by East African folk music and sung in Swahili, it captures the story of  Bethlehem through a rhythmic dialogue between soloists, choruses and percussion accompaniment, and Estonian and Latvian carols that represent the beautiful Baltic culture which used singing as a tool for peaceful opposition during the Soviet occupation. Accompaniment will be provided by Janet Witman on harp, Christiaan Taggart on guitar, David Nelson on percussion and Linda Lorgus on organ.
In choosing the repertoire for the concert, Throne noted, "I sought to design a program that not only included standard choral repertoire from around the world, but also many different languages and genres representing composers whose works are seldom performed.  That combination creates a rich and diverse tapestry of music that is sure to be a unique experience for both the performers and audience.
Tickets are $15 for adults, $10 for students, and are available online and at the door.  Light refreshments will follow the concert.  To purchase tickets, please visit www.thebvc.org.
A free community concert featuring classic holiday favorites and traditional Christmas carols will be presented  on Tuesday, December 6 at 7:00 p.m. at Traditions, an adult community in East Marlborough.
The Brandywine Valley Chorale is a 40-member auditioned chorus founded in 2007 by a group of musicians, arts supporters and friends in the Unionville area and surrounding communities.   Founder and Artistic Director, Jason Throne, received his Masters in Choral Conducting at Temple University and has worked with renowned conductors including Robert Page, Joseph Flummerfelt, Vance George, Marvin Hamlisch, John Rutter and David Zinman.   He is Choral Director at Unionville High School.